Ian Monsod
Entertainment Group CEO
Kroma Entertainment, Philippines
Who is Ian Monsod?
I was born and raised in Manila to a family of highly accomplished professionals. I grew up with 4 sisters but at one time had the longest hair. Although I took my Bachelor of Science in Economics at the University of the Philippines, the next 10 years were characterized by creative and entrepreneurial pursuits. I then took my MBA at Wharton, University of Pennsylvania, and worked corporate jobs in the US for a few years in Los Angeles and New York before coming back to the Philippines and continuing my career journey at home. It was only then that I finally married and had 2 children.
You are the Group CEO of KROMA Entertainment. Tell us about KROMA, Ian.
KROMA is a one-year-old media and tech startup that sits in the ecosystem of the Globe Group of Companies, and its Corporate Venture Builder, 917 Ventures. We are active in the areas of Tradigital broadcast, film and video production, podcasts, live events, publishing, music, and talent management. We strive to entertain the world with the best of Filipino creativity through the most innovative means.
How did you get started in entertainment?
​Growing up, I was into music and theatre and somehow made it a career right after college, playing in rock bands, performing on stage in musical theatre productions, and composing music for TV, theatre, and commercials. I ventured into entrepreneurial pursuits, building a music production studio and events company, eventually shifting to the corporate side of Media and Entertainment after taking my MBA at Wharton.
What's the meaning of the name KROMA?
KROMA is a play on the word 'Chroma', which means purity of color, but also alludes to the post-production technique of using color information to focus on a subject and transform its background. It also stands for our aspiration of projecting color into our audience's lives.
One of the main goals of KROMA is to create cross-cultural partnerships for independent filmmakers to showcase their work at Cannes Film Festival. Very exciting. Walk us through the process.
We have a strong sense of purpose to bring more Filipino creativity to the world stage. In the area of film, we do actively enter our work in various film festivals around the world, in the hopes of increasing exposure of Filipino work internationally. Part of that process is the regular curation of a film slate – which includes independent filmmakers – that we believe can resonate with a global audience. Fortunately, we've been able to make our presence felt at several major festivals around the world and bring home awards in the process.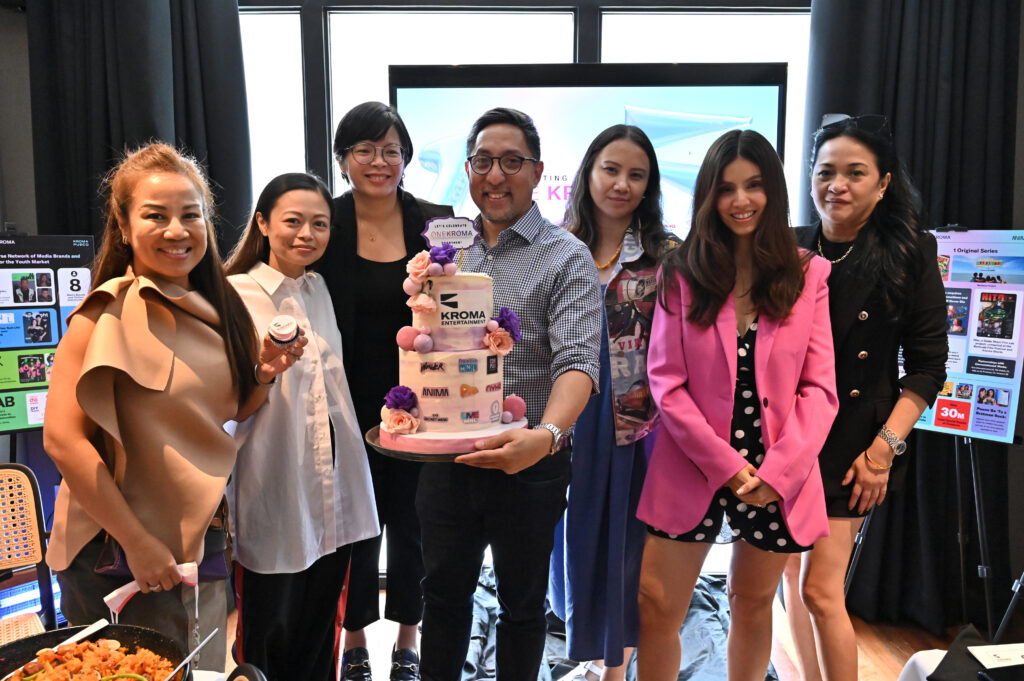 Asians are making waves in the West – which is brilliant.  There is no lack of talent here.   Are the West ready for us, Ian?
With so many content choices out there, the opportunity to rise above the clutter is by embracing uniqueness – telling stories only we can tell. I think the world is ready for our unique stories, especially if they are increasingly well told. It does help that there is momentum in Asian content gaining ground globally. Ready or not, we're on our way.
Do you work with artists from the Philippines exclusively, or elsewhere too?
Mostly, but certainly not exclusively. We do work with talents in the US and Asia. For instance, our music label Paradise Rising is in partnership with 88 Rising, the popular US-based label that develops and amplifies Asian talent, so some of our music talents are based in the US. Our talent agency, NYMA, also represents global talents.
Competition exists in all businesses and industries.  How do you ensure KROMA stands out amongst your competitors?
We are a portfolio of media businesses, playing in different areas of the industry. Each has its unique proposition and positioning in the space that it plays. Being in the ecosystem of a telco and its venture builder arm, though, we do tend to use tech and data as an advantage. For example, our broadcast channel PIE employs tech that introduces multi-screen interactivity that is highly integrated into its program content, creating a more lean-forward experience across game shows, talent contests, and other formats.
Give us some context, Ian – how big is the entertainment industry in the Philippines?
From available data, it looks to be around a 5.4B USD industry, led by digital media, TV, and video.
In your opinion, what is the future of entertainment in the Philippines?
The Philippines has exceptional, world-class talent. It's just a matter of time before that is better appreciated globally. We've already seen breakout successes in music and theatre such as Lea Salonga, and there is much more to come. What is heartening is the increased support for the creative economy in government especially with the recent passing of the Philippines Creative Industries Development Act which provides various protections and subsidies to the industry, so we do have policymakers championing the long-term growth of our creatives. With the right follow-through, this could have an immense impact in making us even more competitive on the global stage.
What about Asia?
The recent success of Asian content in movies, music, and other entertainment areas provides us with a taste of what is to come. The Asian audience is growing and is increasingly more important, which tends to shift content decisions across entertainment companies in the East and West. The future does seem bright for Asian entertainment overall.
Being the Group CEO of KROMA, what is your biggest learning so far?
The importance of 'connection' as a currency in building audiences and a company.
What are the plans for KROMA Entertainment?
We've just passed our first-year mark, so in the short term, we're focused on strengthening our position in various fields of entertainment. Going forward, we'll prove to be a moving force in helping build the local creative economy and bringing Filipino talent to the world stage with distinct world-class content and experiences. Not a bad start to having an International Emmy nomination and Sundance award in our first year. You'll see more of the same as we forge ahead.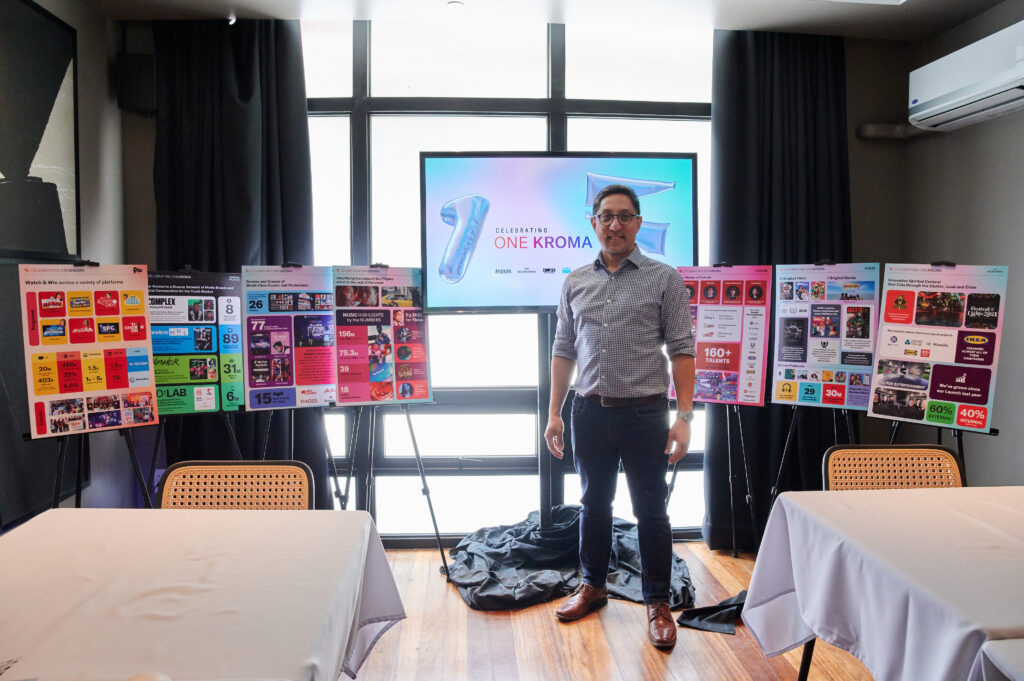 Best book you've read this year
The Big Picture by Ben Fritz
The last music you downloaded
I usually stream music but the last one I downloaded was from musical theater—Hamilton.
What gets you up in the morning
My young kids jumping and screaming.
Your morning routine
The said kids jumping and screaming, helping my wife get the kids ready for school, making decent coffee as my wife prepares breakfast, then squeezing in some exercise if I have time before I start my work day.
The music that changed everything for you
Jesus Christ Superstar—the 1970 vinyl record with Ian Gillian playing Jesus
When you need to feel inspired
I exercise while listening to music or podcasts.
To relax
Experiencing good music on quality headphones.
Things you'll always have in your fridge
Eggs, bread, peanut butter, leftovers
A typical day for Ian Monsod
Awake to kid chaos, breakfast with the family, contemplate—and maybe actually—exercise, manage a full day of work meetings, dinner with the family, put the kids to bed, then either go to an event or settle into quiet work while listening to music.
What have you come to appreciate the last 2 years
More and more, especially after the pandemic, that health is wealth, and that experiences are more valuable than objects.
Best gift you've received
My children, they are my entire world.
Best gift you've given
(Warning: cheesy answer!) Myself to my wife
Biggest inspiration comes from
Prayer, and stories of people who do good or rise above challenges.
One gadget you can't do without
My mobile phone.
Country you can't wait to go back to
Japan is incredibly diverse, and I love how ancient traditions are fused with modern life. I find the country to be home to some of the world's best natural scenery, not to mention the Japanese people are exceptionally polite and genuine and always excited to share their traditions with visitors!
Something you've recently discovered.
Now that I have a family, I pay more attention to my health. I recently learned that maintaining muscle mass and strength is vital because it plays a role in many aspects of health, from bone health to balance and fall prevention to metabolism and blood sugar control. Other healthy aging strategies include getting enough protein through diet or supplements.
Your style icon
The closest thing to that would be my wife. She is a big believer in quality over quantity. She perfectly exemplifies what cool girl style is all about.
Best things about the Philippines
Its people, their resilience, their hospitality and kindness, their creativity, their bravery, and their genuine appetite for life.
Favorite movie
Star Wars has always been my favorite since I was a kid. I love it because of the emotions it evokes in me and how I feel after watching it, then and now. It reminds me of what is possible. It energizes me to take on the world and tackle any challenges head-on. This feeling was valuable back when I was a kid and has continued to be inspiring ever since.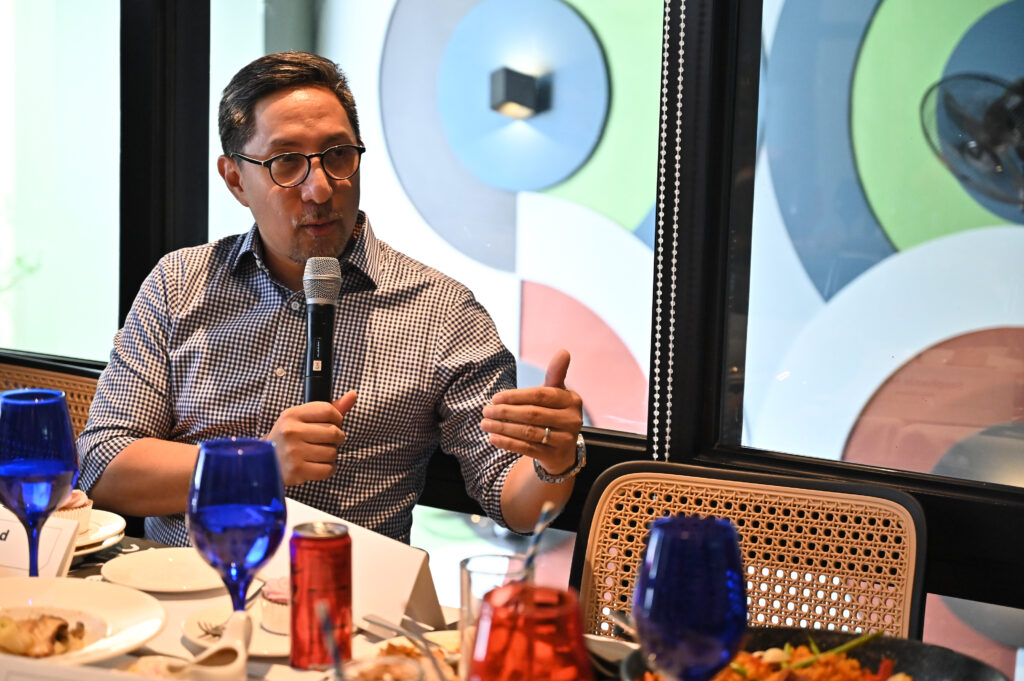 What's in your glass and plate for cocktail hour
Sushi and sake are the perfect combo for me.
An indulgence you'll never forgo
I can't live without getting a regular deep-tissue massage. It's not only rejuvenating. It boosts my mood, giving me the energy needed to seize my day and get more out of my body and mind.
Work of an artist you collect or would (collect) if you could
Amorsolo is the embodiment of Filipino culture. Many of his artworks bring to life his love for the environment. He inspires me because he painted during a pivotal time in our history when we were growing and defining ourselves as a nation and a people. His work reminds me of what it is to be Filipino – who we were, what we did, where we did it, and especially how we celebrate the importance of hard work and the spirit of collaboration. These values and ideals transcend time.
Where Fab! Luxe readers can get to know more about you and your work
I'm not very active on social media, although I do use LinkedIn a lot, and I can be found here