Natasha Moor
Founder & CEO, Natasha Moor Cosmetics
& Award-Winning Global Make-Up Artist
Los Angeles, California
Who is Natasha Moor? 
I am me; 100% authentically me.
I believe in being authentic, and that's exactly who I am. I don't try to be like anyone else; my only goal is to be the best version of myself. Ultimately, like most people, all I want is to love and be loved.
I'm a driven woman on a mission to help others feel confident, powerful, and beautiful. I like to think of myself as a relatable human being and entrepreneur who uses her platform to make a positive impact in the world.
You are an award-winning global make-up artist. How did you get started?
It all began with my passion for helping people feel good from the inside out. I know it sounds like a cliché, but every time I worked with a client and saw the impact it had on them, it drew me deeper into this rewarding career path. Seeing how they instantly changed their attitude towards themselves and those around them made me realize that there was a negative connotation attached to makeup.
Society often portrays makeup as superficial, and I even use to question whether I was contributing to that superficiality. However, I eventually realized that beauty holds a lot of power. As a makeup artist, I wanted to be more than just someone who applied makeup. I strived to be my client's sister, best friend, and confidante.
Building a strong relationship with my clients has been key to the success of my career, in addition to my signature makeup style which focuses on enhancing natural beauty. I believe that making each client feel comfortable and building trust with them has been crucial in making my business successful. My priority has always been to create a judgment-free zone where my clients can be themselves. My business has been built on the foundation of love, and that ethos remains at the core of everything I do.
Being flown all over the world, mostly in luxury, to transform beautiful women into stunning brides. What is that like?
The most amazing feeling in the world, to be honest. However, I must admit that it may seem a lot more glamorous than it actually is. Most people don't get to see the massive amount of luggage I lug around, the extensive set-up and equipment required, and the unwavering patience and dedication it takes to be a makeup artist. There have been many sleepless nights, endless hours of back-to-back travel, and times when I felt quite lonely.
Social media tends to highlight only the luxurious resorts and VIP treatment, without showing the nitty-gritty details of my job. But at the same time, I feel incredibly blessed and grateful for all the opportunities that have come my way and the business that I've been able to build from the ground up. As an entrepreneur, it's easy to take things for granted and forget all the hard work and dedication that got me where I am today.
At one point, I was travelling to a different country every five days, hardly feeling the effects of jet lag. From Bali to Mexico, Spain to Canada, and Italy to Portugal – I've been fortunate to visit so many amazing places. At the peak of my career, I had six brides in one month and travelled from Whistler to Barcelona, Oman, Jaipur, Bali, and Hua Hin (which is a four-hour drive from Bangkok!).
Though I missed plenty of flight connections, I also met some incredible people and made friends everywhere I went. Overall, it's been a truly magical experience, and I'm so grateful for all the opportunities and connections that have come my way.
Let's talk Natasha Moor Cosmetics. Walk us through how and why you launched it and also the process of coming up with the concept, packaging, colors, and marketing – must be lots of sleepless nights.
To be honest, it's a classic story: I couldn't find anything that my clients wanted, so I decided to create my own. I used to mix and match shades on the job to achieve the perfect formula, and my clients loved it so much that they started calling me to mix the shades for them again so they could use it daily. That's when I had the idea to start my own brand with everything all-in-one and perfect, just the way I liked it.
It took me two years of hard work and dedication to develop and finalize my perfect formula and shades. I started with two different lip formulations – one that was a long-lasting matte finish that was made with hydrating ingredients, and the other a creamy lipstick that came with a mirror attachment for easy touch-ups. Both were created with convenience in mind, whether you wanted to trust that your lipstick would stay on all day or touch up on the go while keeping it glam with a rose gold, luxury finish. Above all, I wanted to create a luxury brand that was affordable for everyone.
Which is your favourite Natasha Moor item to date?
That's like asking a mom who her favourite kid is!! hahaha
I have been asked this so many times and will still say there are 3 products that I can't live without in my bag – my warrior sponge, liquid magic concealer and molten matte lipstick in either Hustler, Self-Made or Gratitude.
You are now based in Los Angeles. Why LA?
There's just something about LA that speaks to my soul. The city's energy and vibe are unmatched, and I feel completely at home here. What I love most about LA is the people – they are so friendly and accepting, and I never feel judged for being myself. It's easy to connect with others here and form genuine friendships.
I also appreciate the culture of vulnerability and openness that's present in LA. It's a place where people are willing to take risks, try new things, and embrace love and connection. All in all, LA is truly a special place to me.
Recently, we've been seeing the emergence of Asian entrepreneurs, speakers and life coaches in the US, which is amazing. How hard is it to get your foot in; in a country – firstly, as a foreigner and secondly, where all these businesses are already in place?
As an Asian entrepreneur, I can say that breaking into the US market can be challenging, especially as a foreigner. There are existing businesses and established networks in place, which can make it difficult to get your foot in the door. However, I also believe that with determination, hard work, and a unique perspective, anything is possible.
As I mentioned earlier, many entrepreneurs, including myself, find LA to be a place of great energy and positivity. It can be a real source of inspiration and motivation, especially during challenging times. I think many people can relate to this feeling, which is why we're seeing so many amazing entrepreneurs, speakers, and life coaches emerging in the US, including those of Asian descent. It's a testament to the power of perseverance and hard work, regardless of your background or where you come from. It's important to build a supportive community and connect with like-minded individuals who can provide guidance and mentorship along the way. Ultimately, success is about carving out your own niche, offering something truly unique and valuable, and building a strong brand and reputation.
I am a great believer in the healing power of make-up and I know you are an advocate of it. Tell us more about your empowerment initiative, Natasha.
Thank you for asking about my empowerment initiative!
Since I was a kid, I've always believed in putting a smile on people's faces and that is where it all stems from. It was only inevitable that when I became a make-up artist, that would be my favourite part of the job for me. My initiative "Do Moor" is incredibly close to my heart and has allowed me to find my life's purpose – to inspire, to empower and to bring happiness to people around me.
As a makeup artist, I've been fortunate to witness the incredible impact that makeup can have on one's self-confidence and self-worth. I firmly believe that every individual deserves to feel beautiful and confident in their own skin, and I see makeup as a powerful tool that can help achieve that. My journey began by working with victims of human trafficking, where I saw the transformative effect of makeup in restoring their sense of love and self-confidence.
My latest project and mission are to empower victims of acid attacks in India by providing them with the skills and resources to become makeup artists and businesswomen in their villages. This is not only about teaching them how to enhance their physical appearance, but also about instilling a sense of confidence, power, and financial independence. I feel humbled and privileged to be a part of this incredible organization that is making a positive impact in the world.
When you choose to use Natasha Moor Cosmetics, you're not just purchasing makeup products; you're joining a community of women who believe in the power of self-love and empowerment. Together, we can make a difference and create a world where every individual feels beautiful and confident in their own skin.
When we met in Kuala Lumpur, we talked a little about growing up being bullied and then later, stuck in a challenging relationship. How have all these helped you to be the incredible person you are now? 
I am truly grateful for your kind words, but I must humbly acknowledge that I am just an ordinary person trying to navigate this journey called life. The challenges and difficulties I faced were merely opportunities for me to learn and grow as a human being. I believe that everyone has their own unique struggles, and it's important for us to approach each other with empathy and understanding. While I appreciate your compliment, I must say that I still have much to learn and improve upon. I hold no ill feelings towards those who may have mistreated me in the past, as I understand that everyone is on their own journey and facing their own challenges. My heart is filled with gratitude for every experience, both positive and negative, as they have helped shape me into the person I am today.
Some advice you want to give Fab! Luxe readers – those who want to start their own business but do not know where and how to start.
Don't be afraid to be afraid.
It's easy to feel like we should have everything together, all the time. We're taught to be strong and fearless, to never show any weakness or vulnerability. But the truth is, fear is a normal part of life, and it's something that we all experience at some point. And that's okay.
In fact, I believe that fear can actually be a powerful fuel for our passions. When we love something with all our heart and soul, we'll do anything to protect it and make sure it succeeds – even if it means facing our fears head-on.
But here's the thing – we have to approach everything we do with good intentions and love in our hearts. That's what truly makes the difference. If we do that, we can achieve our dreams, no matter how big or small they may be. All we need is faith and determination. Of course, we can't do it alone. That's why it's so important to find support in our tribe – the people who lift us up and give us the power to feel and express joy. We need to surround ourselves with those who truly care about us, who will be there for us through the ups and downs, and who will help us become the best versions of ourselves.
Embrace your fears and use them to fuel your passions. Approach everything you do with good intentions and love in your heart and have faith that you can achieve your dreams. And most importantly, surround yourself with a supportive tribe who will lift you up and help you become the person you were meant to be.
What is success to you, Natasha?
For me, success is finding happiness in my everyday life by having a sense of purpose and fulfilling it. Looking back two years ago, I used to associate success with power and global domination, but I've come to realize that true success lies in being content and satisfied with what I have achieved. While I am striving to grow my brand and career, I am grateful for the opportunities that have come my way and the ability to pursue my passions. It's a common saying that the journey is more important than the destination, but what we often overlook is how to appreciate and embrace the moments of pure joy along the way. While it's important to have goals and aspirations, it's equally essential to find joy and satisfaction in the journey towards achieving them. By recognizing the small victories and staying present in each moment, we can find success in the journey and appreciate the experiences that bring us joy.
We've been told over and over, in order to be successful, one needs to have a good morning routine to live by. I'm very curious – do you have one and what is it?
I've heard so many times about the benefits of having a good morning routine, and while I truly wish to implement it in my daily life, I have to be honest with myself – I'm only human.
Waking up at 5 am every day to meditate or journal is just not a realistic option for me, especially considering the different time zones I work with. Sometimes I end up having crazy hours and go to bed at 2 am.
Nonetheless, I fully believe that starting your day off on the right foot can have a positive impact on your productivity, focus, and overall well-being. But it's important to keep in mind that there is no one-size-fits-all approach to morning routines, and what works for one person may not work for another. It's crucial to find a routine that aligns with your personal goals, values, and lifestyle.
Also, it's essential to be adaptable and flexible when unexpected events or changes occur. So, while I may not have a set morning routine, I make sure to prioritize self-care and do what works best for me daily. I eat extremely clean; I work out and I definitely make time for things that make me feel good and happy.
What are your future plans, Natasha?
I am filled with gratitude at the thought of Natasha Moor Cosmetics being available on shelves worldwide, and the possibility of bringing joy to people's lives. It is my heartfelt intention for the brand to serve as a source of inspiration for creativity, generosity, and paying it forward, as well as nurturing inner happiness using powerful affirmations and premium products. I hope to foster a sense of deep connection among people, by creating a safe space where vulnerability is embraced and celebrated as a form of strength. My goal is to cultivate a community of like-minded individuals who inspire and support each other in their personal growth while promoting kindness as the cornerstone of our movement. I believe that the world can be a challenging place, and I am humbled by the opportunity to offer a brand that can make people feel like they belong somewhere.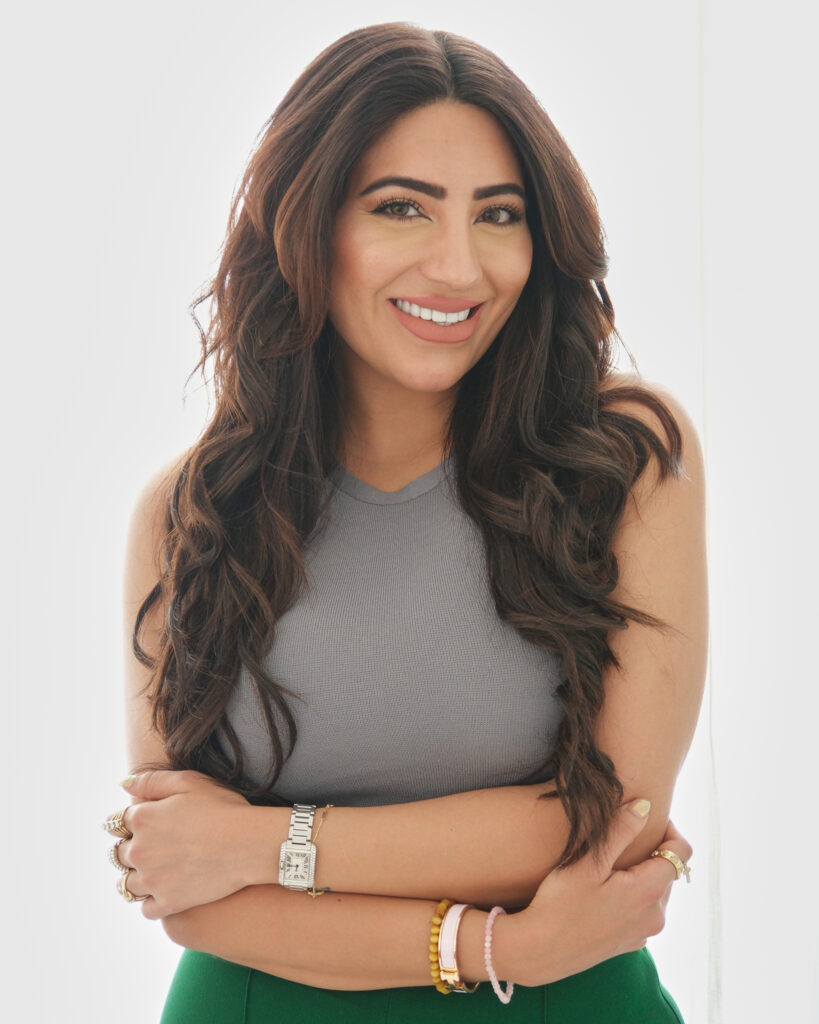 Best books you've read this year
Open Book – Kubbra Sait
The Alchemist – Paulo Coelho
Close To The Bone – Lisa Ray
The last music you downloaded
I'm always downloading 90's music! I just downloaded Shania Twain's album
The music that changed everything for you
There are way too many – but my soul feels refreshed when I listen to the Gayatri Mantra. Since I was in university, It's been my habit. In fact, it's my morning alarm when I wake up.
When you need to feel inspired 
I listen to affirmations and mantras all the time. When I'm getting ready, walking around, in the car and even before going to sleep. I can't sleep without some sort of manifestation-guided meditation in the background.
Things you'll always have in your fridge 
Spinach, avocado, onions, tomatoes, hot sauce
A typical day for Natasha Moor
There's never a typical day I have never really had a routine especially living out of a suitcase and travelling so much. I do like to start my morning with a collagen rose-saffron piping hot matcha with a tablespoon of ghee. that's a MUST.
What have you come to appreciate the last 2 years
LIFE – it's been such a rollercoaster ride and there are so many days where I am overstressed or crying about something. I've learned to step back and just write down everything I am grateful for. 
Best gift you've received
I love all the sentimental gifts I've received, the love letters, the cards, the photo albums, the videos. there are too many, but I will say the greatest gift is always the love and support from my friends and family.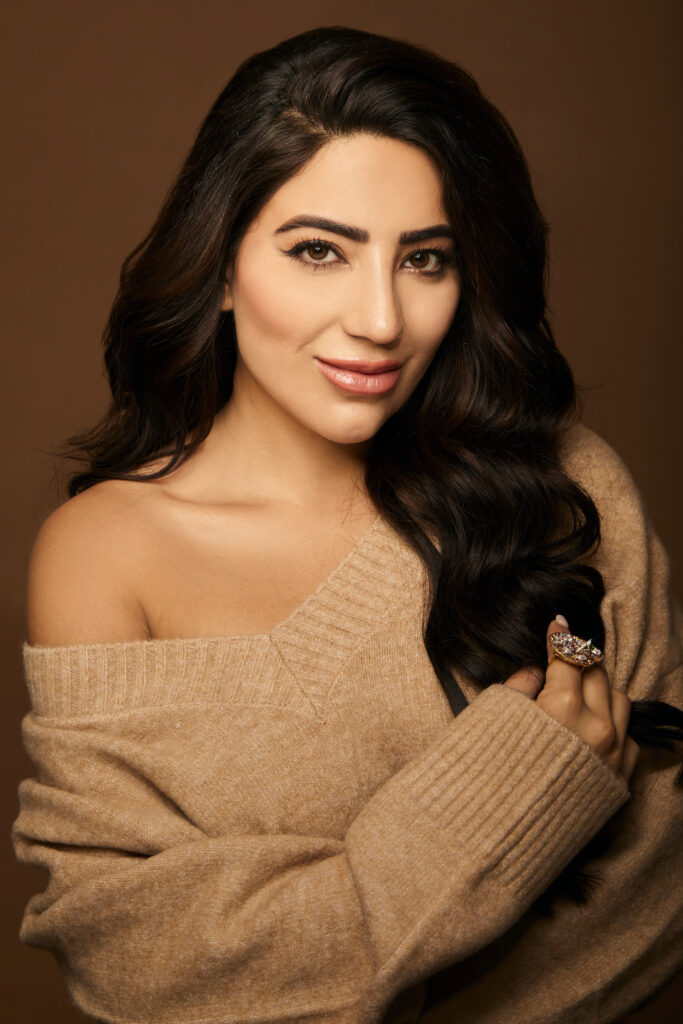 Best gift you've given
I'm going to be cheeky here and say, NATASHA MOOR COSMETICS!! I Love spoiling people with gifts and always think of things that will make them happy – but the happiness on a stranger's face when I give them lipstick and tell them it's MY baby is absolutely priceless! 
Biggest inspiration comes from 
Myself. I inspire to be just like the future me I envision I will be.
One gadget you can't do without  
MY PHONE!!! Can't live without it- It's not something I'm proud of!
Country you can't wait to go back to 
MALAYSIA, of course!!!!!!!!
Favorite podcast(s) 
The Habit Coach
The Skinny Confidential
Founded Beauty
Something you've recently discovered.
A smile is contagious no matter how grumpy someone can look. A smile is all it takes to make an impact on someone's day.
Philosophy in life 
People will tell you to be fearless, but fear can actually be powerful. It can be the driving force that encourages you to achieve your goals. You will be told to be confident, but i find there is so much power in vulnerability. Being yourself and AUTHENTICITY is all you truly need – open your heart, eyes and soul to endless possibilities.
Your style icon
I've always loved Kim Kardashian and Jennifer Lopez's style. I went through that J.LO hat phase when I was 15! Recently, I've been a fan of a more classic approach- I love a simple pair of blue jeans, a tank top and a blazer with heels or boots – that's probably my go-to. I also love crop tops with high-waisted pants.
Best things about LA
The sunshine, the people, the restaurants, the supermarkets, the energy, the cool events you can do.
Favorite movies 
Serendipity, The Notebook, The Vow, Father of the Bride
What's in your glass and plate for cocktail hour
I love a good glass of Brunello with some charcuterie/smoked salmon.
An indulgence you'll never forgo
I would have said french fries but I have proven to have pretty strong willpower recently and have said NO, so never say never 😉
Work of an artist you collect or would (collect) if you could
There Is Always Hope by Banksy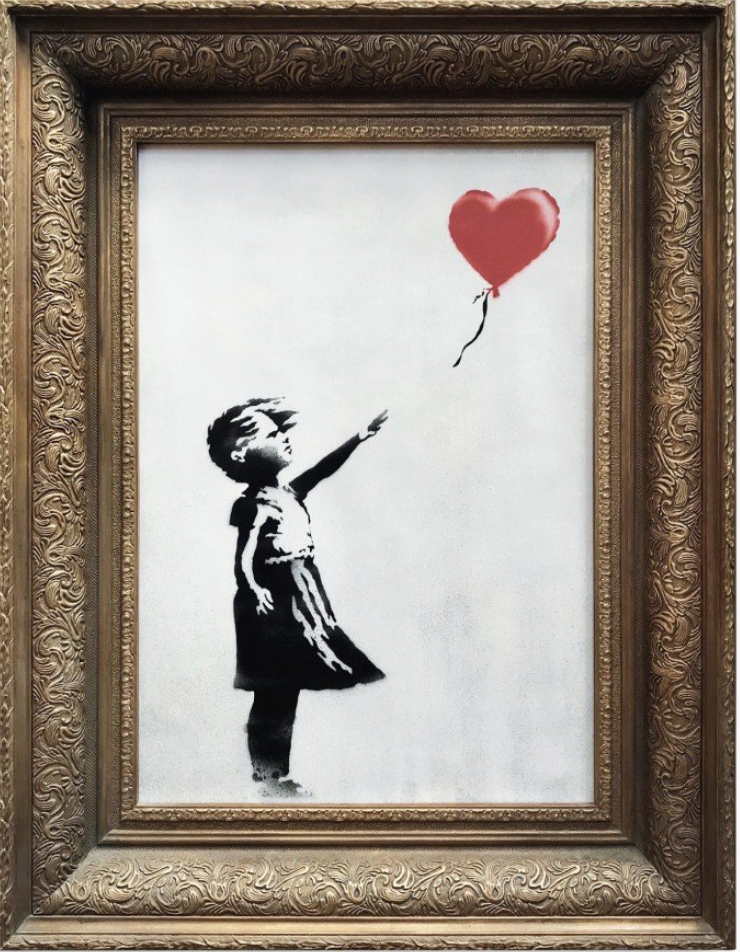 Where Fab! Luxe readers can get to know more about your work
Say Hi, please! I love it when I get messages directly on Instagram.
You can reach me on Instagram @natasha.moor and our wonderful team @natashamoorcosmetics.
What really inspires and motivates me is hearing from our customers. It makes me so happy to hear about the love you have for our products!!