Upasana Mishra
Founder & Artist, Upasana Soulful Art
Kuala Lumpur, Malaysia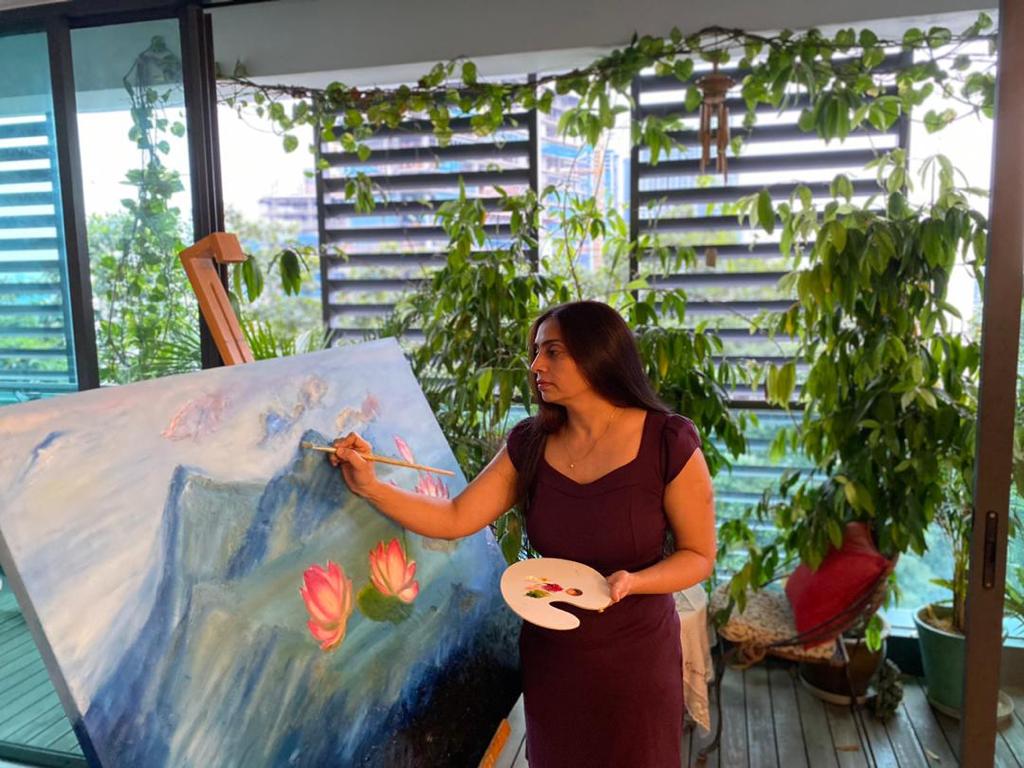 Tell us all we need to know about Upasana Mishra.
I am a professional Indian artist based out of Kuala Lumpur. I have been painting since 1999 and started exhibiting my work in international group exhibitions since 2016. I don't have a formal education in art but learned from quite a few teachers and a Chinese master, all these years.
My husband, Puneet Mishra job posting is the reason why we are in Malaysia. We have 2 boys, Aryan, 20 and Aditya, 17.
You were born in Rajasthan which is known to be dreamy, opulent and magical. If you were to tell people about Rajasthan, how will you best describe it?
I was born in Jaipur and in love with this vibrant, colourful city with the amazing architecture of the gone-by era. Forts, palaces and lots of history, very interesting cuisine and the bazaars – filled with colourful and artistic things along with people dressed in traditional dresses with all shades of colours.
Rajasthan is known for its cultural heritage which is still upholds along with its magnificent palaces, forts and history.
Spirituality in art has long been deemed inappropriate. Fortunately, people's perceptions have changed over the years. That said, what sets your pieces apart is the spiritual touches adorned with them. Talk to us about your spiritual connection – which translates or evolves into your beautiful pieces, Upasana.
The term spirituality has been interchangeably used with the term religious very often and therefore most artists shy away from imparting any spiritual touches to their work as they fear that it may not be seen in the right light.
The truth is, religious art showcases the beliefs or rituals and practices of a particular religion whereas spiritual art is about connecting with our consciousness/self/spirit. Spiritual art encompasses all religions as it speaks about the innate need of human beings to connect at a deeper level with themselves and with nature or the world around them, in order to experience that bliss and peace within that's attained when we are aligned with ourselves and the nature.
I have been on a spiritual journey for the last 20 years and my work is a reflection of who I am at the deepest level of my being.
Wow, that's powerful, Upasana. In your opinion, are empathy and creativity linked?
Definitely, as no artistic expression would make any sense unless the very core of an artist feels love and empathy for the world around.
The journey of an artist especially that of a spiritual one is filled with endeavours and adventures. Tell us about yours.
The biggest discovery in spirituality is to find who you are and why you are here. The various spiritual practices like meditation, yoga and walks in nature are all part of the journey. Nature in particular has its own part to play in the spiritual unfoldment. That's the reason why I paint nature so often in my work because it has been an integral part of my being. There is a journey from the known to the unknown that has been expressed in the work.
You have worked with various teachers and masters to perfect your strokes. Talk to us about that part of your journey.
My mother was my first art teacher. She studied art and painting while in college. I then learned different styles of art like Tanjore, Batik, and Chinese paintbrush art, to name a few and then eventually learned impasto work which was with South-East Asian influence techniques from my Chinese master. My art repertoire was enriched because of the skills I acquired while working with a Chinese master and Chinese paintbrush art teacher. The most interesting thing I can recall is that there was a big language barrier between my Chinese master and me as I don't know Chinese and my master couldn't speak English. The only way my learning was possible for those two years was by working through google translator!
How does art help to heal?
Since art helps to bring out the deepest expression on canvas, healing is a natural consequence. It channels the energy in a very positive way and helps glide into a very meditative state where the individuality (ego) dissolves completely and the artist experiences oneness with the art in that state. It's very therapeutic.
Artists have routines before they get started on their pieces. Walk us through yours.
My mornings usually start with meditation and some prayers, followed by yoga and walking in nature before I start working on a piece of art. Usually, I have the vague outlines of an idea and it is in my meditation that I see that idea in its entirety – in my mind's eye. During the painting session, I have my meditation or zen music being played in the background as that helps to imbue my artwork with a sense of calm and serenity and gives very positive energy to my art collectors. The work is an expression of the oneness with the consciousness and divine.
What is that one hope you have for the artistic sphere, Upasana?
I hope there are more artists and art collectors for the kind of work that's adorned with spirituality. It gives peace, calm and serenity to a piece of artwork beyond compare which in turn helps in bringing those attributes to the lives of the collectors and spaces where they are displayed.
What are the plans for Upasana Mishra?
Having participated in international group exhibitions, now I want to tap deeper in the Malaysian art scene.  Would love to exhibit more of my artwork locally as well as internationally.  Hope the Universe and my art collectors continue to support and bless me, as always.
Check out Upasana's soulful art pieces here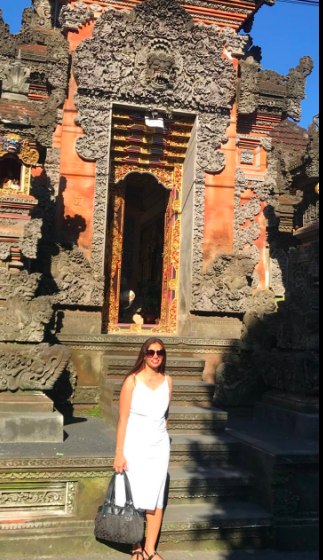 Book that changes you or your perspectives
The Celestine Prophecy by James Redfield.
Music that moves you
Meditation and zen music
The work of art that changed everything for you
Starry Night by Vincent Van Gogh
When you need to feel inspired
Meditation and walking in nature help me to feel inspired.
Things you'll always have in your fridge
Being a vegetarian, I need lots of veggies in my fridge, always – along with milk.
A typical day for Upasana Mishra
After my morning spiritual rituals like meditation, yoga and morning walk, I start work. In the afternoon, I'm always listening to podcasts and in the evening I'll spend teaching art to budding artists.
Definition of success to you
For me, success entails three things :
o Creating art that comes from the deepest core of mine and touches the heart of my collectors and brings calm and serenity to their lives and the spaces it's displayed in.
o Paying it forward by teaching art to my students, to unearth their artistic skills and abilities.
o Contributing to society by donating a certain percentage of my income from art.
Biggest inspiration comes from
Nature and meditation.
One gadget or tool you can't do without
My paintbrushes and my mobile phone.
The country you can't wait to go back to
Venice in Italy and Ubud in Bali.
Podcast(s) that uplifts, motivates or moves you
Dr. Demartini's podcasts
Dr. Joe Dispenza
Oprah Winfrey
Adyashanti
Something you've recently discovered
Life is lived forward but can be understood by connecting the dots backwards.
Philosophy in life
Universe has my back and I trust the flow of life and the Universe.
Your style icon
Maharani Gayatridevi of Jaipur
Best things about Jaipur
Its history, historical monuments like palaces and forts, its cuisine and the colourful bazaars.
The movie that moves you
Taare Zameen Par (Hindi)
The Greatest Showman
What's in your glass / cup and plate for afternoon tea
Masala tea with my sugar-free biscuits
Rajastani indulgence you'll never forgo
Onion Kachori with potato curry
Work of an artist you collect or would (collect) if you could
Pure Fantasy but would love to collect Vincent Van Gogh's work.
Your end of the day routine
My end day routine is a reflection of the day and sending intentions to the universe for the next day and thanking the universe for blessings that came along the day.
Where can Fab! Luxe readers know more about your work.
www.upasanasoulfulart.com
Facebook Upasana's Soulful Art
Instagram Upasana Mishra
Where you can be contacted
upasan[email protected] | Mobile +60172637860