Rhiannon & Neil Druce
Founders, Junee Licorice & Chocolate
NSW, Australia
Tell us about yourselves, Rhiannon and Neil.
Neil (N) : Farmboy turns to licorice and chocolate making. I'm always looking at what else we can do and taking on new challenges. Before purchasing the old flour mill, I had never made confectionary, so I took a 10-week intensive course, continued to work on the science and the passion just grew. I love being in the business of confectionary and tourism because you get to meet so many people.
Rhiannon (R) : I was four years old when my parents purchased the old abandoned flour mill. Dad would let us play indoor cricket in the old building. It's funny seeing it now, filled with equipment and knowing we would NEVER be allowed to hit a ball inside. It was pretty easy making friends in a new town when you invited them to come to play in a chocolate factory. Junee is a great place to be, so much so that I moved away and came back, my passion for the place only continues to grow!
How did Junee Licorice & Chocolate Factory come about?
N : We started with a flour mill on the farm and thought it was pretty cool to be able to mill our flour on-site. That mill broke down and I came across an abandoned flour mill in Junee. I've always loved the idea of value-adding, offering our customers more, and this was the opportunity to do just that. After moving in we were able to start creating licorice and it just got more exciting as we went along. People suggest things to us and we listen. We wanted the factory to be a place where people can explore what happens behind the scenes and just enjoy themselves, that's what we're most focused on.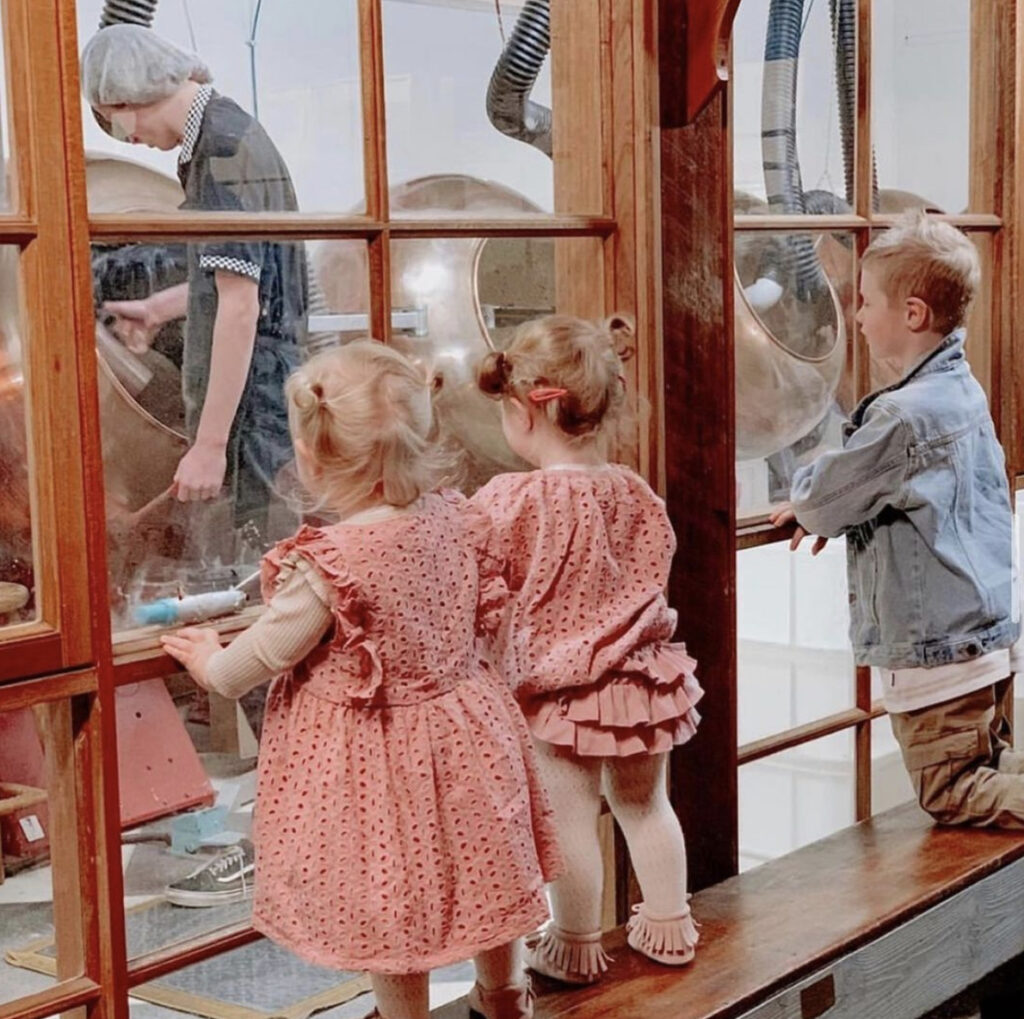 In 1962, "Poppy Dru" converted his farm to an organic one. Very forward-thinking considering organic wasn't at all "in fashion" those times ago. Why do you think he made such a move?
N : My father was reading a lot of books out of Europe and those books were about toxic chemicals off the back of World War II coming into the food train. He would say "I don't want to poison our city cousins," by that he meant he didn't want to make toxic products like meat and grains.
I can imagine all the scepticism from the community. Tell us about that.
N : It certainly wasn't popular at the time and it wasn't called organic farming in 1962—locals called it 'weird farming'. Everyone would talk about how crazy he was, but he stuck to his guns and did what he did because he cared about the environment and seeing things grow to their potential.
You are in regional Australia, Junee NSW to be exact. Are there any challenges, being far away from the usual tourist spots?
R : We're not located off a main highway, so people need to go out of their way to visit us. It's a challenge but it's also what makes us unique. For us, we get to create an experience for people who want to come off the beaten track. It's nice because when people come, they come because of us and what we have created.
N : We welcome an average of 340 visitors each day and I think that's because we encourage people to become part of the factory experience. They get to see exactly how the chocolate and licorice are made, there aren't too many places where you can do that. Encouraging people to step out of their comfort zone is always challenging but we love coming up with new experiences.
Not many know that licorice has medicinal properties. Talk to us about that, Neil.
N : On the ancient clay tablets they described licorice as the thing that extended life. It stimulates energy and is a big builder of our immune system, it was discovered licorice was the only thing that fought against SARS. Licorice has a lot of different properties, it stimulates energy. Being organic really helps to make these benefits better.
Let's walk through the production of licorice – the Junee way, of course!
N : Bright and early, at 6.30 am our team starts preparing the ingredients before putting them all into a big mixing tub. The ingredients are mixed cold, and once combined the mixture is steam heated, and compressed into ropes. Once the licorice finishes its journey through a 12-metre cooling tunnel it's cut to length and rests for 12 hours before being packed.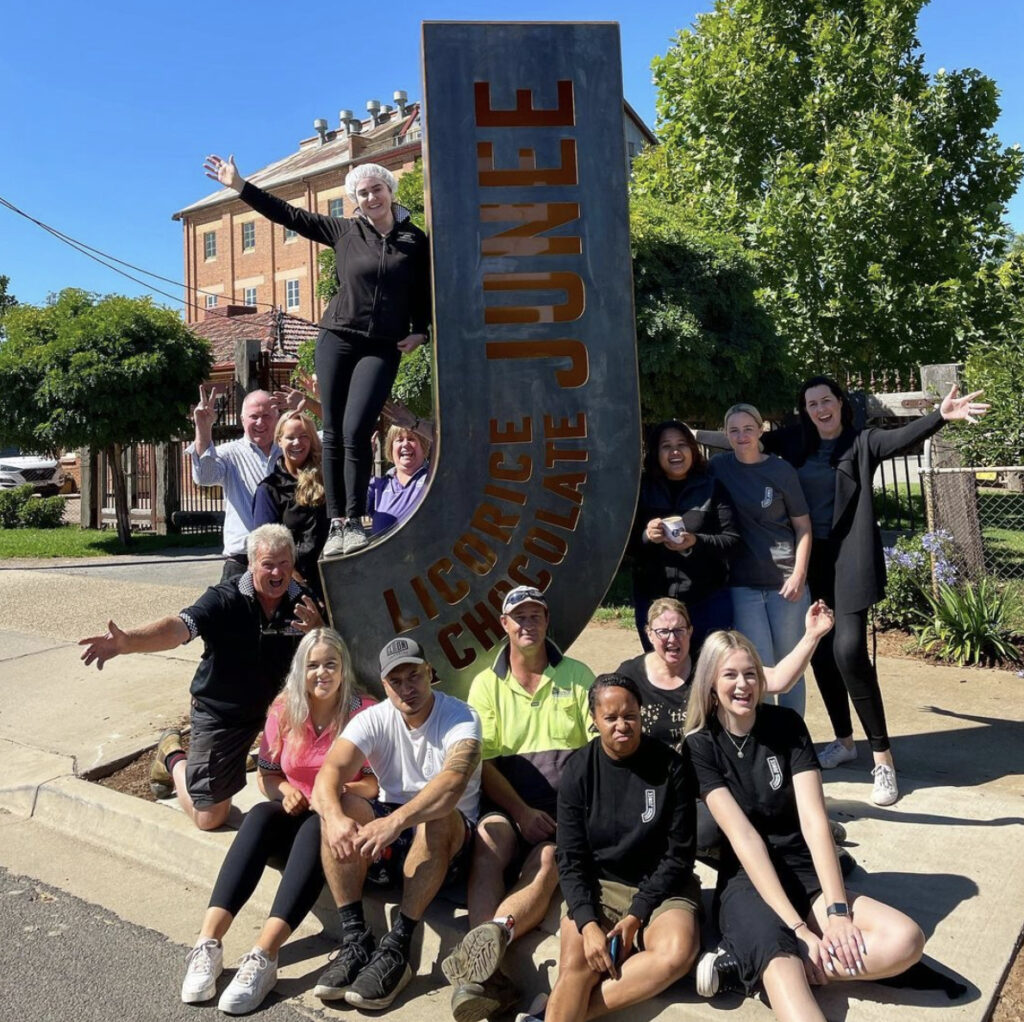 Drink of the Gods, according to the Mayans. Let's tell the readers what I am talking about.  
N : Chocolate is made from the beans of the tropical cacao tree, named Theobroma Cacao (directly translated to "food of the Gods"). It was so special to them that it was only allowed to be consumed by three groups: priests, fighting warriors and royalty. Chocolate was very special and used at ceremonies. It had a lot to do with health and positivity. Although it is now available to everyone it still has the same properties.
We want to create that experience when people step foot into our factory. We want to create a building that makes people happy, that has positive staff who want to work here. People visit us and they're excited to make a freckle. We love seeing the positive experience people have here.
Why is it important to eat and drink organic chocolate?
N : Chocolate is the most sprayed food that we eat. That's the beginning of the process, so creating organic chocolate all the way through is important to us. It keeps the product as pure as possible.
Chocolate is a stimulant and a precursor to serotonin, the flavour alters our thought patterns and helps us to fall in love with life and people. This is why it's given so much as gifts and linked to weddings and Valentine's Day. Eating and drinking chocolate makes you feel good!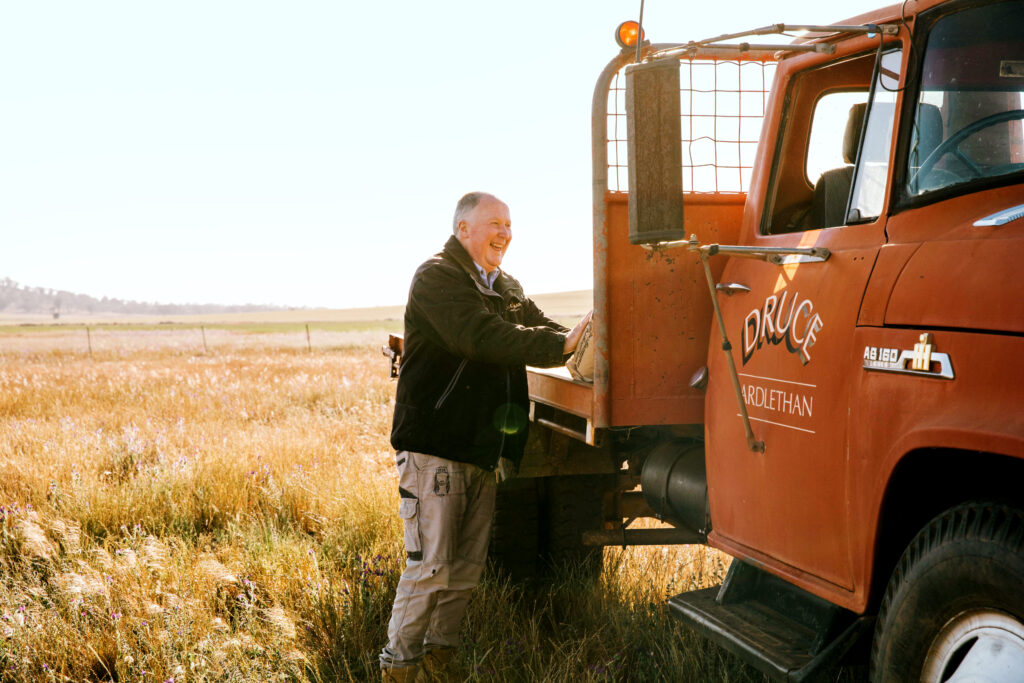 To stay relevant, businesses need to evolve and innovate all the time. How does Junee Licorice & Chocolate Factory ensure its relevance?
R : We just have to stay ahead of what you can deem a trend or know when a trend has run its course. Limited edition products are great ways to try new things. It's experience based for us. When you visit us at the factory you get to meet the maker and have a behind-the-scenes, money can't buy experience.
We're renovating at the moment and constantly changing how we showcase ourselves to the world.
Coming up with limited edition products is always fun, coming up with brand-new ideas. The other week we gave our staff a salt and pepper chocolate to try, it was something they had never tasted before but so many of them enjoyed it! We don't want to think we're too trendy but just hitting the benchmark of chocolate innovation.
What sets Junee's chocolates apart from the rest?
R : The story behind our factory. Nothing is behind closed doors; it's an open operation and we invite people in to experience that. You can visit us and see everything we create, be part of our story, and know you're supporting a family business.
N : Our smash cakes. We were one of the first places to do them. I was doing a chocolate course and they were teaching us how to make easter eggs. I had this idea to make a big one and put chocolate pieces in it. The cameras always come out when it's time to cut the cake but where's the excitement? There's no 'bang'. Our smash cakes create that theatre and people can make it personal by 'smashing' their cake with a cricket bat, hammer, rolling pin, golf club- whatever is personal to them. People can have fun with it.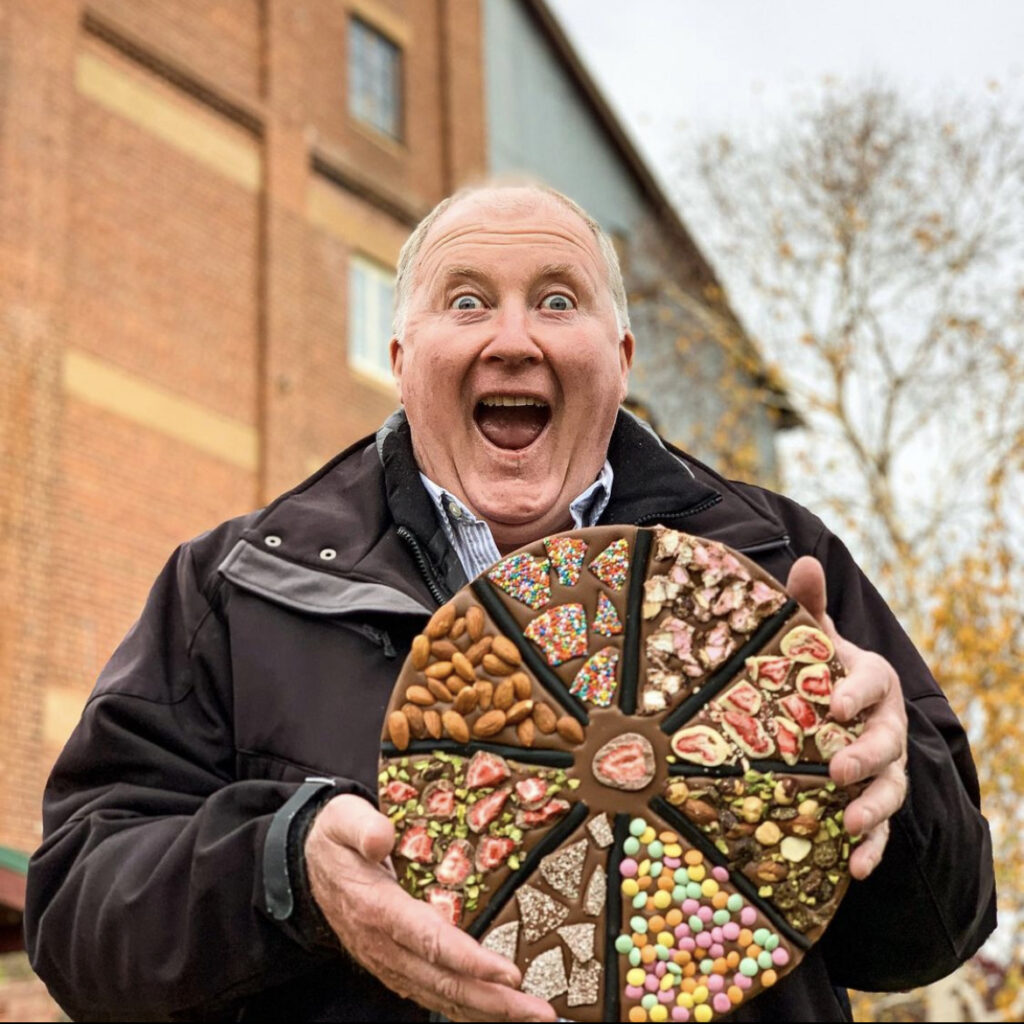 I am very curious, about working with family – what is that like?
R : Our expectations of each other are often higher than other employees. Sometimes that works but you need to create barriers like not talking about work while we're out for dinner. You need to put a little more effort into clocking off. We spend a lot of time together. We've just spent a week away together and now I'm staying with mum and dad for the weekend. We get along quite well. We often have running races back to the office. We find ways to make work different but fun each day. Don't take yourself too seriously.
N : It's really good and wholesome but you need to be careful. By that, I mean always communicating and having private time. Create separate barriers for work and family. Lines will get blurred. You need to be honest when there is something that needs to be discussed.
What are your plans for Junee Licorice & Chocolate Factory, going forward?
R : We're undertaking a big renovation at the moment. When the pandemic shut everything down it allowed us to think about what we could create. We are only ever closed on Christmas day, so the shutdown was unheard of. We thought if we were a customer what would we like to come see? We're creating a whole new experience for people to come to see, think of a rooftop bar and speciality chocolate room.
N : We're in the process of creating a brand new space for people to come and create their very own chocolate in a freckle and rocky road-making area. We want to make it theatrical, think of a wall people will just want to dive into.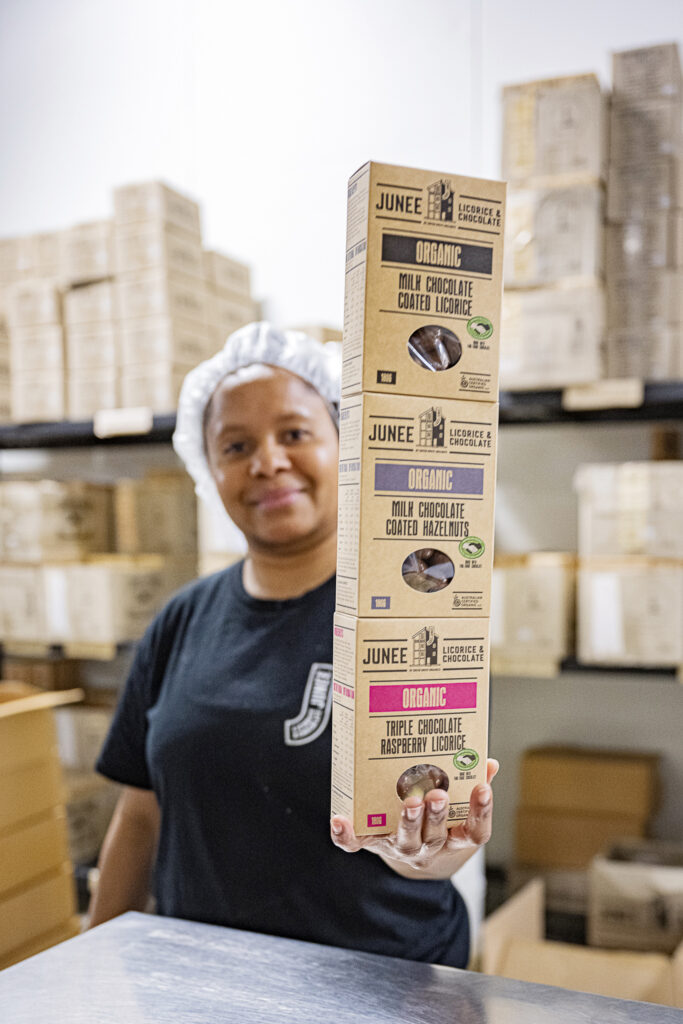 Where can Fab! Luxe readers go to know more about Junee Licorice & Chocolate Factory?
You can visit our website and plan your trip here
You can also get to know us by visiting our Instagram and Facebook