Laila White
CEO & Founder, AQieve Pte Ltd
Singapore
Who is Laila White?
Like so many women in this part of the world, I could have never predicted where I am today. I have faced many adversities in LIFE, just like many people, I've practised not to have self-pity, but to own up to mistakes and failures as much as my success.
I grew up in a kampung (in those times, a rural area) in Singapore, I witnessed the country change drastically when, at the age of thirteen, we moved to public housing (HDB). I came from a family of nine siblings and grew up poor but happy. Life was hard but it was simple. Working hard and delivering has been a mantra I have lived by, since childhood, that was instilled in me by my family. I know who I am and know where I come from. I would also describe myself as SIMPLICATED; simple yet complicated.
Laila White is LIFE and my mantra is Get UP! Dress UP! And Show UP!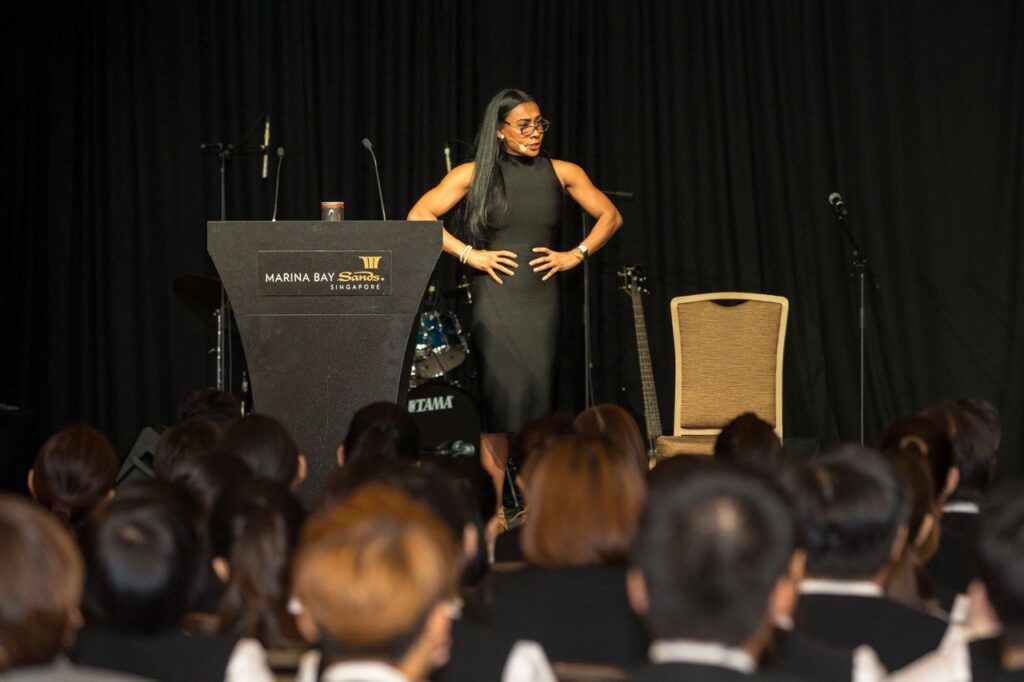 You are this amazing ball of energy, Laila. I shall leave this bit to you to tell Fab! Luxe readers the wonderful things you do for work.
I would describe my profession as a Fitness and Wellness Creator, as I have evolved from a personal trainer into many other roles.
E.L.I.T.E (Enjoy Life In Through Exercise) Fit was founded thirty years ago. It started as a personal training company. I've been a personal trainer to high-profile personalities, industry and country leaders, to everyday people. We provide corporate wellness for five-star hotels, corporations, government bodies, and schools in Singapore; Shangri La, Johnson & Johnson, Infineon Technology, Safra, seventy secondary schools and sixty primary schools in Singapore, just to name a few. 
Over the years, I got into gym creation for Four Seasons Hotels and Resorts and homes globally. To date, I have had the opportunity to create sixteen Four Seasons Hotel gyms in the Americas, Middle East and Asia. It is a big achievement, being Asian and a woman. I changed the mindset, look and feel of what a hotel gym should look and be. A hotel gym is now an asset and not an afterthought. I created the gym standard for Four Seasons Hotel that's still widely used.
I created the outreach programme A.D.A.T (A Day @ A Time) at Singapore's Our Tampines hub free for the community. Our tai chi, qi gong, pilates, yoga, and Zumba classes start from 7 am to 9 pm daily.
My TV show LIFE by Laila, Season 1 was rated number 1 in Indonesia in 2019. LIFE by Laila TV show's aim is to showcase Asia and Asians. On our show, we uncover the goldmine we are sitting on in Asia's traditions, customs, and rituals. All intrinsic parts of what makes Asia what it is. We need to start looking inward and celebrate ourselves and realize we are the trendsetters of what balance means. Recently, LIFE by Laila Season 1 was acquired for broadcast in Europe.
PLAYtopia Sg Kids' indoor playground is 4 years old this year. We are the first kids' indoor playground in Singapore built within a library. PLAYtopia SG is built for the community and our main aim is to raise our children with values, ethics and kindness by learning through play. We had launched a few initiatives for seniors and are very proud to announce that PLAYtopia SG is launching BE program. It's a 12-step initiative program for cultivating moral values in children.
They are:
Gratefulness, kindness, bravery, ethics, modesty, mindfulness, courtesy, loyalty, honesty, politeness, tidiness, empathy, and love.
By instilling these values, we CAN raise a generation of compassionate, responsible, and conscientious individuals who will positively impact their communities and the world. 
How did you get started in the fitness industry?
It started 30 years ago after seeing my brother's body transformation during his Singapore National Service. As a mother of two, I wanted to be fit and was inspired to be lean like him and Bruce Lee. He taught me a few exercises to do at home. Every night when my daughters were asleep I would workout, staring at Toni Braxton's Unbreak My Heart music video, admiring her toned arms. I could only manage five minutes as I was very unfit. After three months, my curiosity piqued and I decided to take a course on Basic Exercise at Singapore Sports Council. When I passed the course, I took another and then another. 30 years later, here I am. From a personal trainer, a global gym creator for a luxury hotel chain and residences, a wellness and fitness events creator, Managing Director of an inaugural Fitness Best Asia Awards, a kids' indoor playground owner, TV host and above everything else, I am A WOMAN.
You walked out from a tumultuous marriage many years ago. Do you want to tell us a little bit about that, Laila?
Sure, I embrace my past as much as my present. I am not ashamed to talk about it, as that path paved the way for me to find my sole purpose in life.
I was married for 14 years. The first 12 years were blissful, unfortunately, the last 2 were rough. He was a gifted man, played over 6 instruments, and was one of the top composers in the industry. He set out a goal to release a great album which he strived and dreamed for, yet fear took over and he didn't want to pursue it, as he didn't want to fail. That fear was so huge, it took over his life, he transformed into a manic depressive and later developed schizophrenia. Ultimately, his personality changed, and he was no longer the man I had married.
Life had to go on, and when our children were 4 and 5 years old, I had to take over as a single parent. It's a responsibility one has to take without throwing any blame or even questions, especially when kids are involved. I had a choice, moving on – be it forward, sideways, diagonally. But just move!
Amidst the chaos and heartache of starting over, a remarkable transformation occurred within me. Like a flickering flame in the darkest of nights, I rediscovered something precious—I found and rediscovered Laila. The woman who had been buried beneath the layers of compromise, suddenly emerged, breathing life into forgotten passions and infusing every moment with a renewed zest for life. This revelation became my guiding light, my purpose. It ignited a fire within me that could not be contained.
The best part of this story, Maxine who is my ex's current wife of 19 years, and I are great friends! She reached out to me last year on Mother's Day to thank me for allowing her to be part of my kids' life. The craziest part was I wanted to reach out to her months before that but didn't want to upset my kids, to disrupt their set system. We talked/texted almost every day! Laughing our asses off!
I interviewed her on my show Forever Fit & Fabulous last year on breast cancer month! She's just an incredible woman and a very talented writer. She's not only helped our kids but me too. As soon as women can put aside their personal barriers, issues, and grievances and get very clear with their vision, relationships can develop with other women. I love her very much and she is an inspiring woman. The way I see it, we both married a different version of the man. Now he's a dutiful husband and they are very happy.
We know that you are a driven and ambitious woman. We also know that you are a mom to two, now, grown-up daughters. With all these things that you do, how do you find the time – between being a single mother and running your businesses all those years ago when they were younger?
I was very blessed with a goal in my head that my kids will go to university one day. That helps me focus, and they did. I strongly believe in education, especially for girls. I aimed to give them what I didn't have or get. As a parent, I always tell them, if they like what I do, they do better. If you despise what I do, you do even better. I had to make many unpopular decisions that they hated me for, but I know the end game is for their benefit, not mine.
We don't have a manual to help us be a parent, we learn from our parents and others. We can't get everything right but if we're smart, we learn from what we get wrong & if we're really smart, we learn from what others get wrong.
When my girls were between 4 to 9 years old, I had a couple of great helpers that helped me raise my 2 girls. I didn't have much time to think about how to take care of the family and my business. I just did it. Whichever needs the most attention and help, that's what I focused on. It's about juggling and balancing. I am a great juggler, maybe in my previous life, I was a court jester. I didn't have much time to moan or feel victimized about anything, I had to function as there was only me. As a single parent and business owner, I took that role seriously. My only choice is to do or die. I'm too full of LIFE to die, so I DO, my best quality got me here – stubbornness or resilience, you can call it by whichever name you prefer. 
In your opinion, can a woman have it all?
My question to people, not just women is "What are you willing to give up?". No one can have it all. We are measuring and rating ourselves with/against men. What we fail to see, is those men that seem to have it all, the successful businessmen, he's overweight, eating and drinking with clients, no time to exercise. Traveling constantly, an absent husband and father and to top it off he is a workaholic!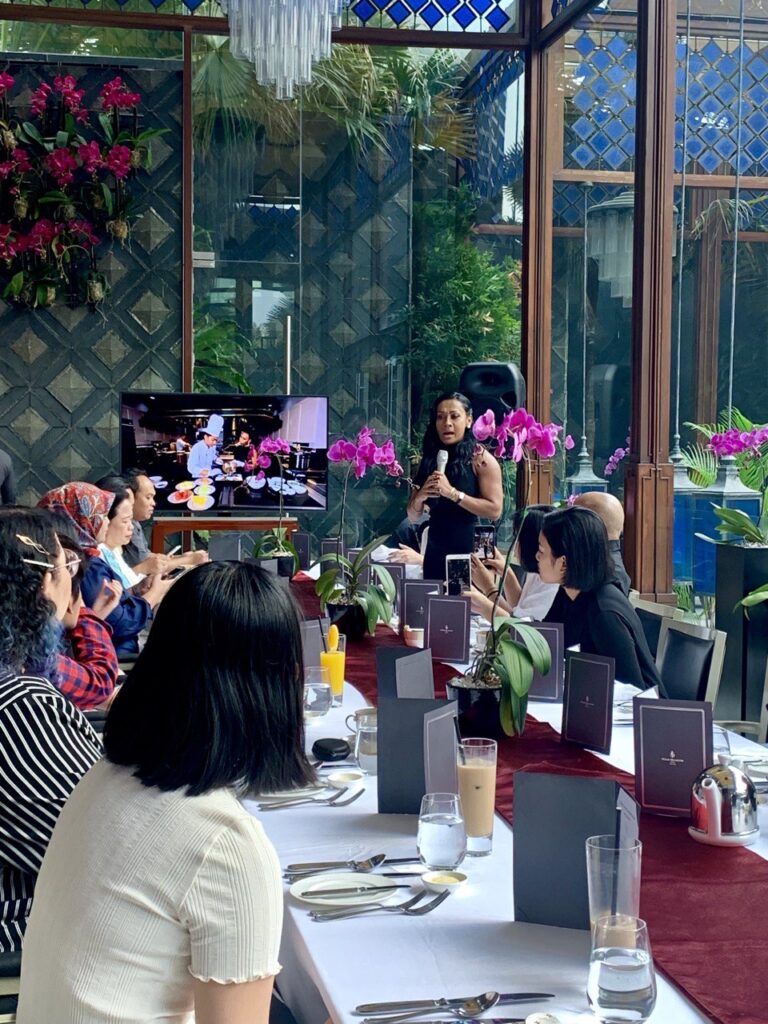 I constantly hear women saying," We can have it all!". Can we though? We are the balancer, and equalizer most of the time, at the home front. Women would leave work first compared to men if their kids or parents are sick. Haha, we want to be successful leaders at work but most aren't willing to give up their spa, wine, gym and the ME time. Are you willing to sacrifice your immediate family by constantly entertaining clients, travelling non-stop and giving up your spa time or any of those "times' we have so eloquently demanded in the "we can have it all" era. We are judged differently till today. I still remember a good friend, who is married, said, "You work all the time and don't spend time with your kids, it's not good you know?!" Mind you, I was a single parent with mounting debts to pay which keeps coming. it's like shovelling shit up the waterfall (if I can say so). I had to have a helper, which is another added expense on top of it all. I said to her, if I were a man, you would salute, kiss my feet and sing praises to me, as you think that's a noble thing, he's doing. That's the harsh reality of how we are still perceived, especially by other women. But I'm happy to report, I have never cared about people's opinions of me. The last time, I checked, I am still paying my own bills. My favourite answer to those who to give their worthless 2 cents without asking is "If I want your opinion, I would have give you."
Sadly, my role as a doting mother transformed into a no-nonsense single parent. Once upon a time, the mother that read books, cooked, showered and taught the kids to read at 3 years old, became an iron-fist dictator and a workaholic. – The Man of the House. I had to make sure, we had a roof over our heads, food on the table and school for them to attend. I didn't have it all, something had to give, mine was my children. Now, my relationship with my girls has evolved, as they become young adults. We are friendly and have open communication, but I make sure that they know their boundaries. After all, I am still their parent and believe in Asian values to the core.
You are very open about your age. You have just turned fabulous 56. What is the best thing about being in this 50th year of existence?
I have never been ashamed of my age nor lie about it. Wouldn't I be lying to myself? it's written on my birth certificate and ID. How can I deny all the experiences, knowledge, and life lessons of pain, love, likes, and heartaches by not claiming my age? Through ageing, if you are lucky that is, you get to experience all these. Ageing is a privilege denied to many. Being in my 50s is to have vast choices of how to look great, not wearing drab coloured clothing, either keeping your hair silver or coloured – your choice, being able to transform your mind and body, being comfortable in your skin and most importantly truly realize that life is short and all the experiences you've gained and you're still here! Standing proud and tall. That's a gift! I have lived a great, life, I have loved hard and felt heartbreak even harder. But the wisdom that I have gained, would not trade it for anything. People that I've met in life, taught me many lessons. The fifties make me feel alive and full of promises for days to come.
The definition of beauty in a woman has changed over the years. What is your definition?
A woman who doesn't lose her femininity yet she is unafraid to speak up and stand strong for her truth. She is tough yet gentle enough to nurture anyone that needs it, with love and compassion. She stands tall with pride but remains humble. One that listens without judgement, gives other women compliments and always celebrates the success of others. She laughs a hearty laugh and despite sorrow, she's able to see the bigger picture and pick herself up with lots of kindness towards herself. Last but not least, a fit body, mind and spirit and she owns it! That is beauty to me.
Do you have a defining moment in your life?
I have many, but these two had the biggest impact on me. It was such a confusing period in my childhood, with all the conflicting emotions.
Being molested, since I was 4 yrs old by many men – family friends, distant family members, shop keepers and then raped at 13 years old. A light bulb came on at 13yrs old and I finally saw everything so clearly. As a victim especially a child, you feel guilty as you don't understand why your body responds with pleasure being touched but knowing it was wrong as it was all done secretly. I was so confused and felt so lost. We were raised to be seen and not heard, I kept it in for a long time. Also at 13, the universe opened its doors and gave me some liberating wisdom, the shame and guilt should not be on me, but on those predators. 
At 21, I told my family what had happened openly, they were shocked, but most importantly, I freed myself from their vicious trap. That freedom gave me a loud voice and as a result; I am no longer a meek little girl but a powerful woman who will scream at the top of my lungs to protect my kids by all means. I am fearless!
Another highlight that impacted me is when we were on the plane back from Montgomery, Alabama, after our 1st family trip. I came to realize my marriage was dead/over. We were married for 14 years – 12 years filled with happiness, the remaining 2 years were horrendous. There was a picture captured of the kids and me on the plane, that picture alone speaks a thousand words. Everything went downhill when we came back. The old me died and I was reborn again. I knew my purpose on this earth. To become a woman that loves immensely, works hard and most importantly fiercely capable of raising 2 kids single-handedly with all her might and not be bitter due to her past. I am LIFE.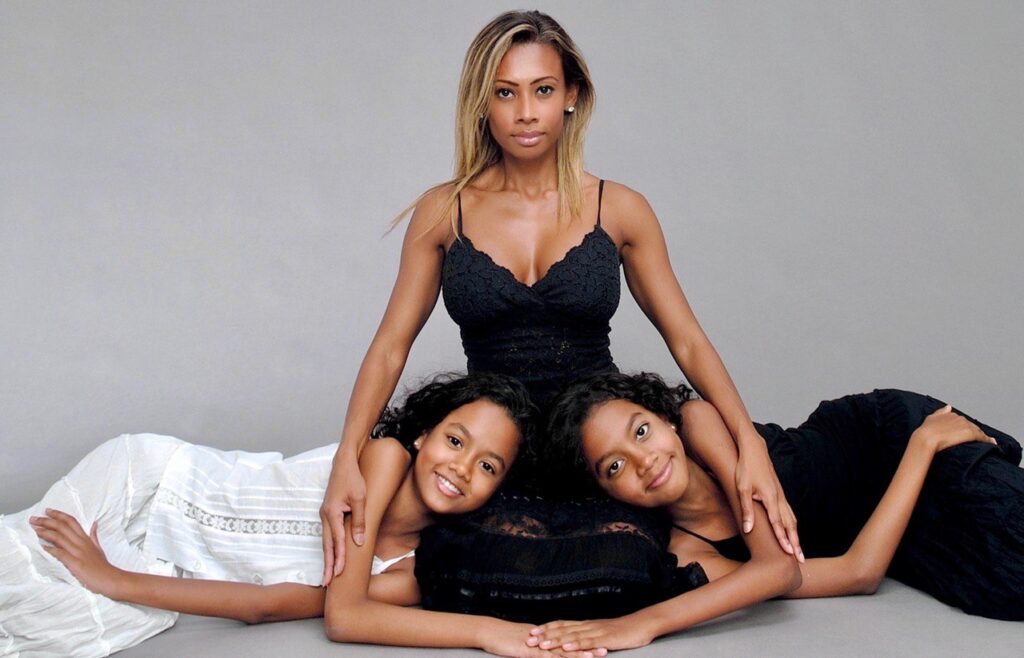 What is the best thing about being a woman in this current time?
That depends on where you live. In most countries, being able to work, having choices, have a say in everything, especially your own body is our human right. Right now, in Singapore, singles who are 35 years old can own their own home. I am so happy, especially for women! It's quite an achievement for us women. To have opinions (but not called opinionated I've yet to hear a man being called that) and be part of contributing and healing of this world, must be given. We are nurturers, we must never forget this gift, and never compete with men, that's lacking in ambition, I would say. We are far superior because we are multi-taskers.
What does happiness mean to you?
Being able to enjoy my own company, and do what I want according to the beat of the drum. Being contented, grateful, at peace and able to laugh hard at myself, with my children, family and close friends. Lying on my floor with the roller on my neck, grounding. It brings balance, strange, but it's true.
And success?
Success is relative. To me at the end of the day, I can let go of any kind of disappointment, disagreement, sadness or anger and sleep peacefully. My success with my kids is rated by how they treat others, not what they achieve in their careers, that belong to them, they sat for the exams, I didn't. But their act of kindness, compassion and humility, come from me. I claim that as my success, those traits belong to me
What are your plans, Laila?
There are a few things cookin'.
I am still working on a comeback for LIFE by Laila Season 2 and so forth. An event that summarizes what LIFE by Laila stands for. A single mothers organization called Gal UP this year, with my mantra of Get UP, Dress UP and Show UP. Gal Up serves as a strong and nurturing community, offering a safe space for women to heal, rebuild their lives, and regain their sense of self once again. Remember who you are when you had so many hopes and dreams when you believed as a little girl the world is your oyster. Something is coming up, fitness and wellness wise catered for WOMEN only! So, watch this space for more details!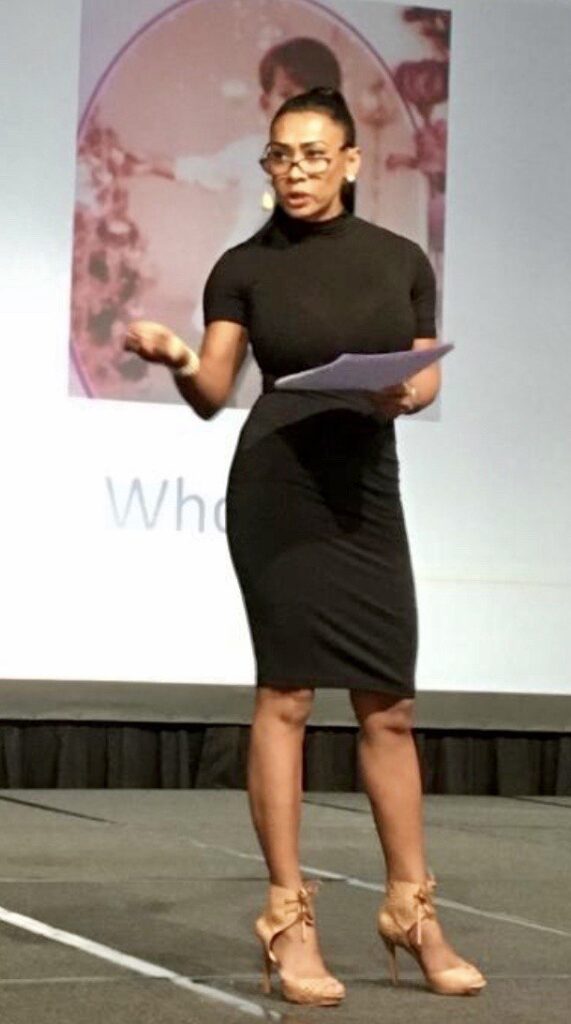 Best book you've read this year
I am re-reading Conversation with God
The last music you downloaded
I Lived by One Republic (was sent by my eldest she said it describes how I live, to the TEE!)
Your morning routine
Make my bed, coffee. Walk Lola, talk to God giving gratitude for 1) My career 2) My Kids 3) My Love Life. Prayers for my family, friends that are here and gone, ones I know and the ones I know of. Get ready for work
The music that changed everything for you
Water Runs Dry by Boyz II Men
When you need to feel inspired
I go for a workout.
Things you'll always have in your fridge
 White Wine, Vitamin C, Sambal Belacan (shrimp paste chilli relish)
A typical day for Laila White
Wake up at 5.30 am, out the house by 7.15 am for work, fit in workout in between personal training, go to Playtopia SG, meetings, talk to my kids, work from home for aQieve . Eat dinner, shower, read or watch crime shows and zzzzzzzzzzz.
What have you come to appreciate the last 2 years.
Everything and nothing
Best gift you've received
Small paper rolled up love memories in an old beautiful tin container
Best gift you've given
A concert ticket to Pat Metheny for one of the most precious people in my life.
Biggest inspiration comes from
The strangest time and random thoughts
One gadget you can't do without 
Air pods, to meditate while walking and to ward off people talking to me especially at the gym.
Country you can't wait to go back to
Beirut
Something you've recently discovered

This emoji has 2 meanings – smirk and horny (GOD, help me!  The amount of times I have sent that to men, to show them I'm annoyed backfired)
Philosophy in life
Live life to the fullest!
Your style icon
Raquel Welch & Sophia Loren
Best things about Singapore
It's the best country in the world – efficient, safe and so, so, so LIT!
Favorite movie
The Notebook
What's in your glass and plate for cocktail hour
White wine, nuts and anchovies
An indulgence you'll never forgo
Magnum Almond.
Work of an artist you collect or would (collect) if you could
Salvador Dali
Where Fab! Luxe readers can get to know more about your work
Instagram : @lailawhite_pib, @lifebylaila
Email : [email protected]
Website : www.aqieve.co
Cover Picture : Farhan Arif | Makeup : Lyia Halim