SHIKHA GROVER
FOUNDER, kimkara
by Zu Anjalika Kamis Gunnulfsen
Shikha, tell our Fab! Luxe readers about you.
Well! Where do I start? It's hard to summarise all the number of years that have gone into making me who I am. I am already half a century old, looking wonderful and feeling wonderful! I grew up in Mumbai and that is where my heart belongs, amidst the madness of that crazy, buzzing city. Married pretty young at 22 and life has been great – with all the spices of a marriage thrown in. I have two beautiful daughters, who are now married. My Indian culture and traditions took root in Banaras when my husband was posted there for four years, back in the 1990's, and that's where I fell in love with Indian weaves and silks. I loved walking in the gullees (narrow streets of Banaras) and got completely enamoured with the whole process of weaving and trading of silk. Moving back to Mumbai marked another milestone in my life, for this is when I got involved in the social sector.
I started working with CHILDILINE India Foundation, and those years will remain the best part of my life until I moved to Kuala Lumpur 8 years ago. Looking to continue doing something for children, I landed up as a learning support in Garden International School for 3 years, helping a child with special needs complete her 'O' Levels. This strong need to give back to the world has always been an integral part of my existence and I keep looking for opportunities to volunteer or support in any which way I can.
All my life Art, Architecture and Designing has been my passion. I even took a one-year diploma in Interior Designing somewhere in between when I had the urge to go back to school. I am a self-taught impressionist, in awe of Claude Monet & the water lilies and have been painting oil on canvas for over 30 years now. And this is what led me to start experimenting with the idea of marrying art with silk and kimkara was born as part of the process.
I am besotted with your work – best thing is that you get to surround yourself with beautiful things that is mesmerising to all our senses. Share with us your journey.
It was four years ago when I, along with an artist friend, came up with this idea of combining two art forms – original paintings on canvas with the fabrics and weaves from India – to create sarees. We launched our label Bodh, interpreting her paintings and transferring the art on silk. Each piece was stunning, one of a kind, a combination of original art with the warp & weft of rich Banaras silk and brocades. Bodh was a big success and received immense love from everyone. I knew I had found my calling!
One year later, I launched my own label, kimkara. The first collection of sarees, jackets and kaftans was based on original paintings by Dr. J. S. Bhogal an artist friend from India who painted Indian mythology and folklore using the most radiant and eclectic colours. His paintings titled Samudra Manthan, Ragmaala, Krishna and Rati made up a wonderfully vibrant collection. I decided to launch kimkara's first collection in Dubai. An exhibition in Kuala Lumpur quickly followed and the response at both places was amazing. In 2019, I collaborated with an Australian artist, Miranda Free. It was her mixed media art with alcohol inks and water colour flowers that inspired me to create sarees which were more glamorous and even a bit playful, targeting a younger audience. I showcased this collection at Singapore, Kolkata and Kuala Lumpur.
The current collection, my third, is in collaboration with Upasana Mishra, an Indian artist presently living in KL. It was her water lilies which drew me to her art. She uses a very different technique of expressing her flowers, the three-dimensional Chinese art brush stroke style which is normally used on ceramic has an impressionist result on canvas. It is these bold brush strokes so clearly visible on silk which is the highlight of this collection.
The sari will always be my USP, it gives me a six-yard canvas to express myself and I create just one of each. Each sari is numbered and certified never to be repeated. While the tunics, kaftans, jackets, menswear and crop tops are also part of my limited-edition pieces, the idea is to keep it niche and exclusive.
This year we are also customising and going bespoke. You can give us your favourite style from your wardrobe and choose an artwork from the Art Gallery on our website. We will do the rest and create something in your favourite colours that defines exactly who you are and what you like.
My production is all done in Mumbai, by a team of tailors and the finest 'kaarigars'. I am extremely fortunate to have an enterprising young woman, Aruna Shah, as my associate. She is the one responsible for bringing my creativity to life.
Shikha, tell us what the process is like – from the time an inspiration comes to mind right till the moment that inspiration becomes something tangible.
The process of creating each kimkara piece is unique. The inspiration may come to me while looking at some water lilies floating in the shining waters of a lake under the afternoon sun or while walking down a city street with graffiti on the walls. To be honest, both these situations have actually happened with me! But once I do get an idea in my head, it takes hours of painstaking work on my Mac to see if I can faithfully reproduce it into a design that will do justice to the original painting that I am working with at that time. Then follows the creation of a final design file made to measure for the kind of garment that is to be produced, selection of just the right fabric, the printing, designing the cuts with Aruna and then the final assembly, embellishing and finishing. It is a long and painstaking process but once I look at the final kimkara piece it makes all the long hours and the labour seem worth their while. The thrill I get when I see each kimkara piece for the first time is simply indescribable!
What's behind the name kimkara?
The word kimkara is a combination of two Sanskrit words Kim & Kara and can be interpreted to mean, Beauty from the Land of the Golden Meadows. It is a combination of two skills, one on the canvas and one on the loom. It embodies my love for art, for exquisite fabric and for all things beautiful. It stands for beauty and grace.
I've seen some of your work; they are truly exquisite. Where does your inspiration come from?
Nothing spurs an artist more than the love & appreciation of the audience. When a person chooses a kimkara he or she focuses on not only the style and the cut but more on the art. The art must resonate with their personality, with who they are! In a way anyone wearing a Kimkara is also an artist, carrying the art on their bodies. It is the dialogue with all the people who come to look at the kimkara collection which inspires me to go on, to create what appeals to the artist in my clients.
I do not have a better way to articulate it than to say you make an artist's work come to live. Tell us about that.
Every collection is completely dedicated to one artist alone. It is their art that has to match my sensibilities and my passion; with JSB it was the mysticism and the stories, with Miranda it was her interpretation of the tropical forests of Malaysia and with Upasana it was the impressionist brush strokes that got me excited. Their paintings inspire me to weave my stories on fabric, to bring their art to life on silk. My work is a tribute to all these artists, each of them wonderful in their own way.
Art is often seen as luxury. What are your thoughts on this?
kimkara is known for its unique concept of interpreting original art on silk. Every collection takes one full year in the making – starting from the original art on canvas, the interpretation of the paintings and creation of the artwork, sampling of the silk and printing, designing each piece individually for the actual production with embellishments and then the finishing to perfection. Each saree is unique, just like a painting. It will not be created twice. When a collection such as this is curated just like a piece of art and not mass produced, then it has to belong in the luxury segment and should be valued as such.
I am very glad you said that and that is also why kimkara is on Fab! Luxe. So Shikha, tell us, who are your clients?
Anyone who aspires to wear something unique and beautiful, would like to stand out in a crowd, make a statement with their presence. I have had some surprises when people you would normally count among the more serious and formal types have come up to me and have not only bought a kimkara piece, but also discussed passionately their views on the art and its interpretation. As I said, kimkara appeals to anyone with a poetic and artistic temperament, age and sex – no bar!
You are originally from India and now residing in Kuala Lumpur. What are the major differences between buyers back home and around this region?
The Indian audience has access to some of the best designers of the world and the best craftsmanship. The Indian embroidery techniques of zardozi, kantha, chikankari, aari work, kashidakari, mirror work, hand painted fabrics with madhubani art, batik, weaves like ikkat and patola have all been revived and the Indian buyers are spoilt for choice. But let us not forget, there are originals and there are inexpensive copies. A buyer has access to both and but when an Indian buyer wants an original she will have the eye for it and will be aware of what it costs. She would be willing to pay for the craftsmanship even if it is not associated with a known brand.
Kuala Lumpur is famous for its mall culture, with famous brands from all over the world present here. One is ready to pay for a Gucci and a Versace for the label. We have some very accomplished fashion designers in Malaysia as well who are creating a mark at the international level. When it comes to a lesser-known brand offering something so unique, created with a lot of hard work by the best craftsmen it naturally takes a lot of convincing. Having said that, there are enough and more people in Malaysia who appreciate a work of art for what it is and I am fortunate to see kimkara adorning more and more such wonderful people as time goes by.
Walk us through and tell us about your involvement with the underpriviledged.
I keep looking for opportunities to engage myself in helping the less privileged amongst us all. Thus far I have been trying to contribute wherever and whenever I could as an individual. For the recent kimkara exhibition we tied up with two non-profits, the Chin Women's Organisation and Greater Action. Since all Christmas bazaars and sales were so badly affected due to the pandemic, we decided to hold a joint event at my home where both these organisations displayed their creations along with kimkara. We managed to sell a sizable amount of their products and I must sincerely thank everyone who came out in support of them.
What's next for kimkara?
kimkara will continue to grow, liaise with more artists for our future collections and continue to weave their stories on silk. We will be scaling up our online presence, customise to create bespoke pieces. And oh, yes! we would like to create our own wedding collection in the near future.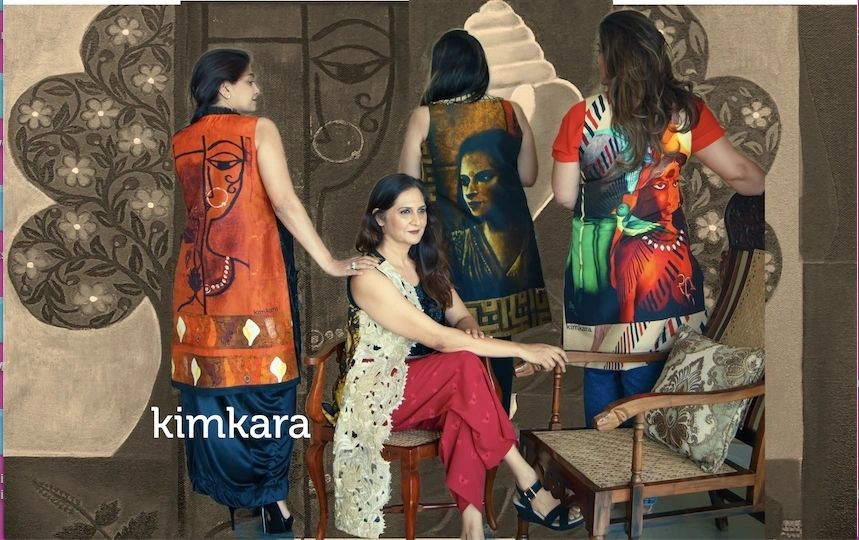 Where can Fab! Luxe readers go to feast their eyes on kimkara's designs?
For all our collections and designs, please visit our website kimkara
You can also follow us on Instagram and Facebook @kimkaradesign
Any parting words, Shikha?
I always remember the following lines and would like to share them with your readers:
"Now I see that the journey was never meant to lead to some new and improved version of me; that it has always been about coming home to who I already am." ― Katrina Kenison
Science, technology, art, colours of nature, ripples in the water, smiles of children, beauty of the flowers, sensuousness of a woman, it has all come together in kimkara – it is my ode to art. Join me on this journey and make life beautiful!