Beatrice Khor
award-winning pianist / student
She is a pianist extraordinaire, capturing the feel of each piece, taking it all in while her fingers create glissando in between.
Definitely not an easy feat considering her tender age.
Catch our chat with Beatrice Khor on her passion, hopes and dreams.
You started playing piano at a very tender age. Walk us through that journey, Beatrice – tell us about Beatrice Khor.
I started the piano when I was 3 years old and I took to it quite quickly. My journey so far has been difficult but also very rewarding in every sense, and ever since then, I've never stopped playing. There had been many challenges in the past and it will only get harder, especially since the piano is such a versatile instrument with lots of repertoire written for it. However it is the obstacles that make it so interesting, and I wouldn't give this up for anything in the world!
Your mother is also a pianist. I am sure that has an influence over what you have achieved so far. Does that make it easier?
I'm extremely lucky to have a mother who is a pianist, because she understands exactly what I'm going through and often has some very good insights and advice to offer me, too. She has my back in every circumstance and always encourages me whenever I'm feeling discouraged. Her knowledge and expertise can actually be quite pressurising when it comes to playing for her though.  She is definitely my most intimidating audience member!!
I've watched you play over the years and I cannot believe the maturity you bring into each piece, even then, as a child.    Maybe you can tell us a little – how do you bring an emotion into each performance – does it come naturally?
This is a really interesting question! Well, there are many angles to the emotional aspect. For me, it is really important to have a clear story, image or certain emotions in mind. Then, I connect the piece I'm playing to these sources of inspiration and try to bring out their distinctive elements. During a performance though, it is very easy to become nervous and rely on muscle memory- this is not good because when you are too self conscious, you are unable to communicate with the audience properly. However, it is also possible to throw yourself too deeply into the music that you lose the pulse. So overall, while the emotion has to come naturally, I try to find a balance and share my interpretation in a way that is easy to follow and understand.
You are a student at an international school in Kuala Lumpur, Malaysia; to be specific, in year 12. How do you juggle school work and this amazing passion of yours?
In all honesty, it can be very challenging at times. The workload of A Levels is quite heavy, and on top of that I have to practice daily to keep up my skills. Generally, I find it helpful to keep a checklist of all the things I need to do. Usually, I jot these down on my pinboard or my phone just so I have an idea of the workload, and then I try to get as much done as I can. 
Of course there are days when I feel demotivated or forget things, but thankfully I have my parents to keep me in check!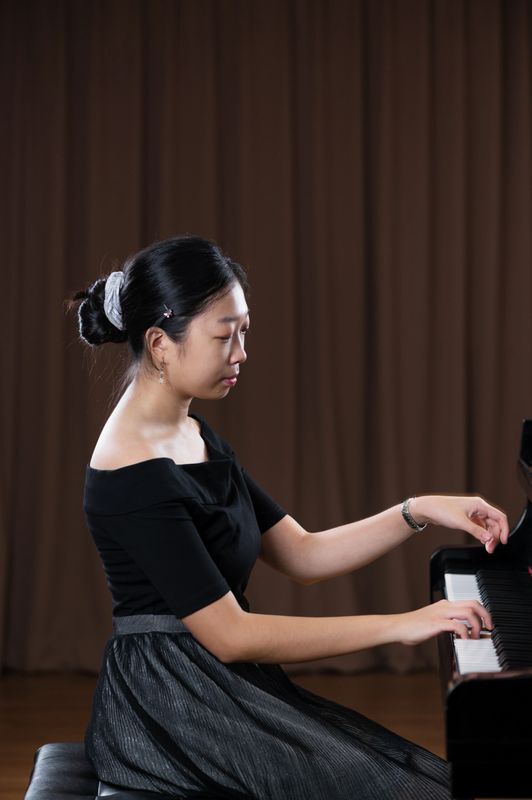 You have won awards after awards and I cannot tell you how proud and impressed we are at Fab! Luxe of your achievement. I really think those awards need a little shoutout. Tell us all the awards you have won so far, Beatrice – and I know it is quite a handful.
For sure. They are :
* 2017 ABRSM Sothie Paul-Duraisamy Award2017 PCM National Music and Dance Competition- 1st Prize2017
* British Malaysian Society 60th Merdeka Award for Young Composers2018 Scottish International Youth Piano Competition- 1st Prize2018
*Malaysian Piano Competition, National Finals- 1st Prize 2019
* International Liszt Ferenc Competition Malaysia Round- Gold Award 2019
* Hong Kong International Music Competition for Young Pianists, Malaysia Round- Absolute Gold Prize 2019
* Putra International Piano Competition, 1st place2019
* Brisbane International Youth Music Festival, 2nd Prize2019 and 2020
* Osaka International Music Competition, Malaysia Round- Best Performers Prize, 2nd place
2020 Melbourne International Piano and Strings Festival Online Competition – 2nd Prize 2020
* ABRSM High Scorers' Festival Online Competition- Gold Prize
Tell us about UK. You were there and I heard it was quite an experience.
Yes! I've been there twice, both times for piano courses. The first was in 2016 for the Overseas Masters Winter Piano Academy, which was held at the Yehudi Menuhin School and hosted by the Malaysian pianist, Bobby Chen. The OMWPA was initially for Malaysian students, though it has opened up to Southeast Asians now. To give you an idea of the activities, we had lessons in ear training, sight reading and composition, to name a few. A number of 'first times' also happened there- I got to play a harpsichord, visit London and travel without my parents for the first time in my life!
As for the second one, I went for the yearly piano summer school at the Royal Conservatoire of Scotland in 2018. It was a week-long summer camp which culminated in a competition. It was truly intense; we had daily one-on-one masterclasses with the world renowned pianists who teach there. On top of that there were also lunchtime open classes which was like a peer critique event; we all played for one another while receiving feedback. We even got to learn about the Alexander Technique and have a lesson in Ceilidh dancing! They were both incredibly memorable experiences, and I am so grateful that I got to meet so many wonderful and talented people as well.
Tell us, Beatrice, besides piano, what are your other passions?
Reading was one of my first loves, and whenever I have time I usually reach for a delicious rom-com or classic novel. Swimming and doing home-workouts are my favourite way of keeping fit. I also watch ballet and figure skating avidly as I'm a big fan of them!
What do you hope to do in the future?
In the future I hope to travel the world, meet people from all walks of lives and live in really vibrant, bustling cities.
Music-wise, I would love to perform in as many concerts and gigs as possible. I am sure that no matter what my future careers are, the piano will forever be my closest friend!