Rocco Bova
Founder & Chief Creative Officer,
My Humble House, Mexico
Who is Rocco Bova?
Rocco is a 52 years young hotelier. He has been dreaming all his life to do and be who he is now. Living one's dream is possibly the ultimate level of happiness.
Rocco, you are touted by many as a hospitality expert. Tell us how you get started in the industry.
I know a thing or two about hospitality. I tend to invest a considerable amount of time studying and investigating the latest news and trends in the industry and this is what possibly makes me an expert.

I had my first job at the young age of 13 and I was fired after three days – I was just making too much damage. This was what truly pushed me to commit even more and make it.
My first managerial role was at one of the best hotels in the world, the Jumeirah Beach Hotel in Dubai. Since then, my career has been like a space rocket. I have been working and living in 11 countries and led some of the most spectacular properties with amazing teams. I am very proud of what I have achieved so far and I am still full of energy to provide so much more to the industry.
What makes you stay in hospitality for the length of time you have?
Just last year I celebrated 30 years in this industry and every day I love it more. Of course, like all loves, they change over time. Now, for example, what I like is the evolution of the industry and what could come next. Be prepared for what is coming, meaning anticipate what you need and be prepared.

I enjoy the adrenaline of conducting the orchestra and getting applause at the end of the concert. Besides, I believe that there is nothing like the hospitality industry. The moment you can make an incredible experience for a guest and receive a genuine ''thank you'', this moment is priceless.
Being in Mexico, in the Yucatan Peninsula, I cannot help but think of tourists coming to bask in the ancient roots of Mexico; enjoying a full, healthy, happy few days or weeks with all the perks the jungle can offer. Is it how it is? Tell us more.
Yucatan and Mexico in general are of the ancient civilization which is, unfortunately, unknown because the colonization caused the loss and disappearance of most of the history of this magnificent country.

The natural physiognomy, flora, fauna, different landscapes, geology and geography, makes Mexico one of the most diverse places on earth. Its people are friendly, welcoming and gentle, no wonder tourism is booming and developments are at their highest moment in history.
Just to give you an idea, Mexico is more than 8 times the size of Italy, has three time zones and you can experience the most pristine beaches, mountains, deserts, tropical forests, culture, gastronomy, history, folklore, etc.
Shall I say more?
I have been living here for 6 years now and is the place I remained longest. I guess I am in love.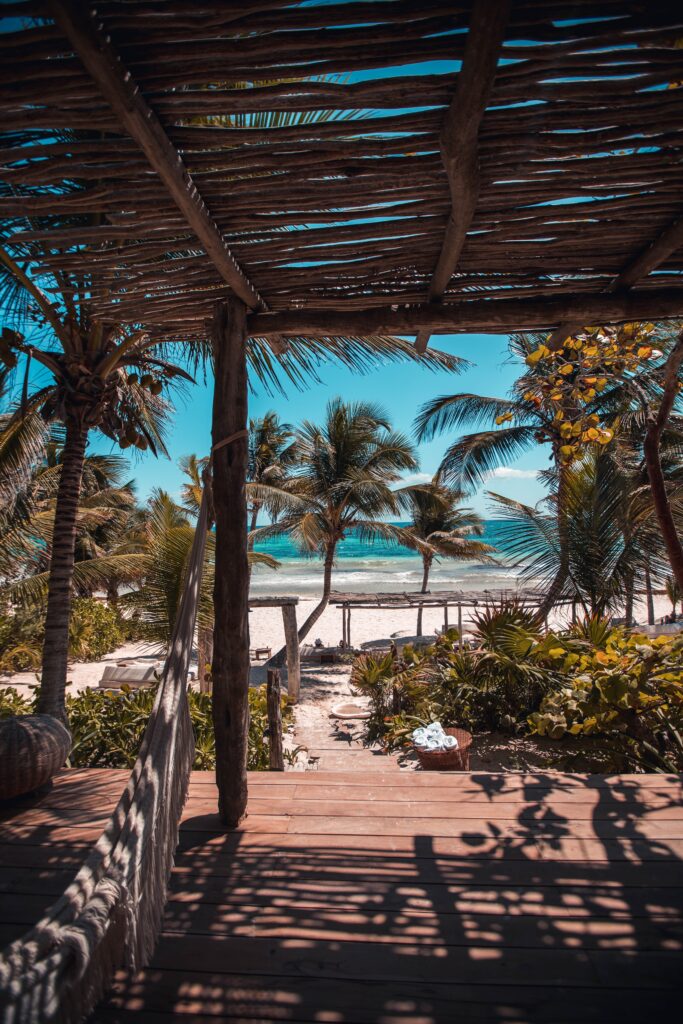 I am very excited to talk about My Humble House. Walk us through all we need to know, Rocco.
My Humble House is a personal project that has been ''cooking'' for some 20 years. Like most hoteliers, I too wanted to create something new, and unique, and when I turned 50 (two years ago), this milestone triggered me to start.

I began working and wrote the business plan for a hotel concept with the only profit-sharing business in the world as its business model. Yes, you heard it right, the profit will be shared with the staff.

There is only one way to make people commit to a company, making them responsible for results will engage the team to take care of the business and provide the best possible service to our guests, making it truly sustainable and circular. I have created a page on Linkedin and have already nearly 2.500 followers. I have spoken to more than 200 people from all over the world and I keep receiving encouragement to continue on this revolutionary concept.

I am now at the point to search for ''THE'' investor, that one person that, like me believes that profit is the consequence of the purpose.
Why the name My Humble House?
Strange but true story. I was in Singapore, it was the year 2003 and I was invited to the grand opening of a restaurant whose name was My Humble House. The name got stuck and it meant so much to me that I decided to keep it and use it one day. That day came two years ago with the birth of my concept.
You are originally from Italy and have been living around the world for the last many years. Now, Mexico is home. What about this lifestyle appeals to you?
Yes, it's been 30 years away from my country. I must say that Mexico and its citizens make you feel at home. For the first time, I did not feel like a foreigner. Here people say ''mi casa es tu casa'' (my home is your home) and they really mean it.

It's also very easy to get permanent residency, contrary to many other parts of the world and there is a lot that can be done for the local community.

I am very happy and proud to be here and I will recommend it to anyone.
Tell us a little bit about Mexico – the country, the appeals, the hotel and hospitality industry and the people who make up the workforce.
People are very service oriented by nature. Service is very genuine and one of the best I have seen so far. People like to learn even if they have no hospitality school education and it's relatively easy to train someone who has never worked in luxury hotels.

Mexico is the only country, that I know of, that has not been influenced by mobile phones and social media. Its culture is very strong and people are very proud to be Mexicans.

In just 6 years I have made thousands of genuine connections.
What are your plans going forward, Rocco?
For now, I am planning to continue working on My Humble House project. Both my kids are in Europe to further their studies and I am experiencing for the first time the ''empty nest''. It's kind of strange for now, but let's see what the future brings.
It's nearly impossible to plan long-term now and I am just enjoying this moment of my life.

Your morning routine
Wake up at 5am. I like to spend the early hours of the day when everyone is sleeping. I can do so much during this time.

Your philosophy in life
Live and let live and karma is my mantra.

Best book you've read this year
Steve Jobs Biography

The last music you downloaded
Toto (I love the music from the 80's)

The music that changed everything for you
Toto ( a soft rock group). They have been playing for nearly 50 years

When you need to feel inspired
I go to the beach alone.

Things you'll always have in your fridge
Fruits

A typical day for Rocco Bova
5am wake up, coffee, work, eat healthily, interact with as many people as possible, exercise, sleep early (I am in bed by 10pm)

What have you come to appreciate the last 2 years
Focus on what really matters. Make sure fear does not get me. Fear makes you stop thinking clearly.

Definition of success to you
Happiness = Success. When I go to bed and sleep with a smile on my face

Biggest inspiration comes from
My wife. She is an unbelievable woman

One gadget you can't do without
My phone.

Country you can't wait to go back to
Oman

Favorite podcast
Gary Vaynerchuk

Something you've recently discovered.
I can actually multitask a lot more than I thought.

Your style icon
The 80's

Best things about Mexico
Tacos and Mezcal

Favorite movie
Pay It Forward

What's in your glass and plate for cocktail hour
Nuts, rum and a cigar (only on week ends)

Italian indulgence you'll never forgo
Parmesan Cheese

Work of an artist you collect or would (collect) if you could
David of Michelangelo

Where Fab! Luxe readers can get to know more about your work.
People can follow me on Linkedin, that's where I am most active. I have the option to direct message me even if we are not connected.