Making Up For Lost Time
Six Life-Changing Travel Experiences at andBeyond
As the world re-opens, travellers are not waiting any longer to tick off dream destinations on their bucket lists.  So, what makes a trip truly life-changing?  Award-winning luxury experiential travel company andBeyond has curated several outstanding experiences in unique destinations, for holiday-starved travellers.       
From up-close encounters with big cats to salt-water bareback horse rides, to traversing Himalayan Mountain tops and taking in the African sunset vistas, this list will make you want to plan your next great adventure.
For the castaway desert island experience : andBeyond Benguarra Island Mozambique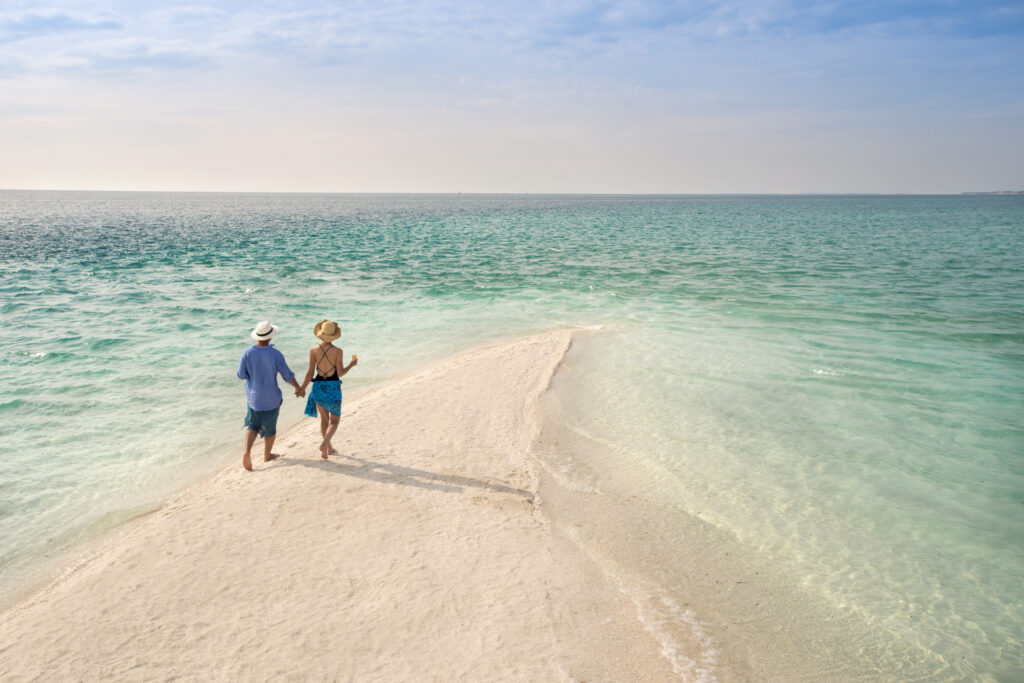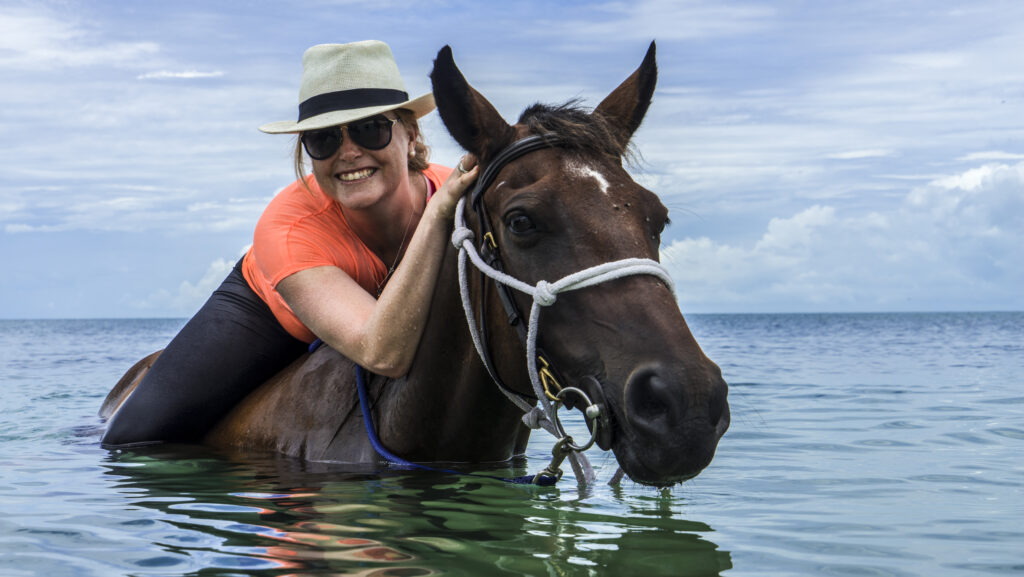 An exquisite piece of Indian Ocean paradise, Benguerra Island is a luxury beach holiday destination where time stands still. Think pristine coral reefs rich with marine life, exquisite beaches, interior freshwater lakes, and towering sand dunes. This island retreat is situated on a protected lagoon off the coast of Mozambique and is a part of the Bazaruto Archipelago National Park's marine protected area. Wade into azure waters on horseback, enjoy a decadent picnic set on a sandbank in one of the most secluded sites on the Bazaruto Archipelago, hop aboard a traditional dhow boat for a sunset cruise, or simply bask in the sun amidst the white sand.
For family-friendly fun : andBeyond Phinda Mountain Lodge, South Africa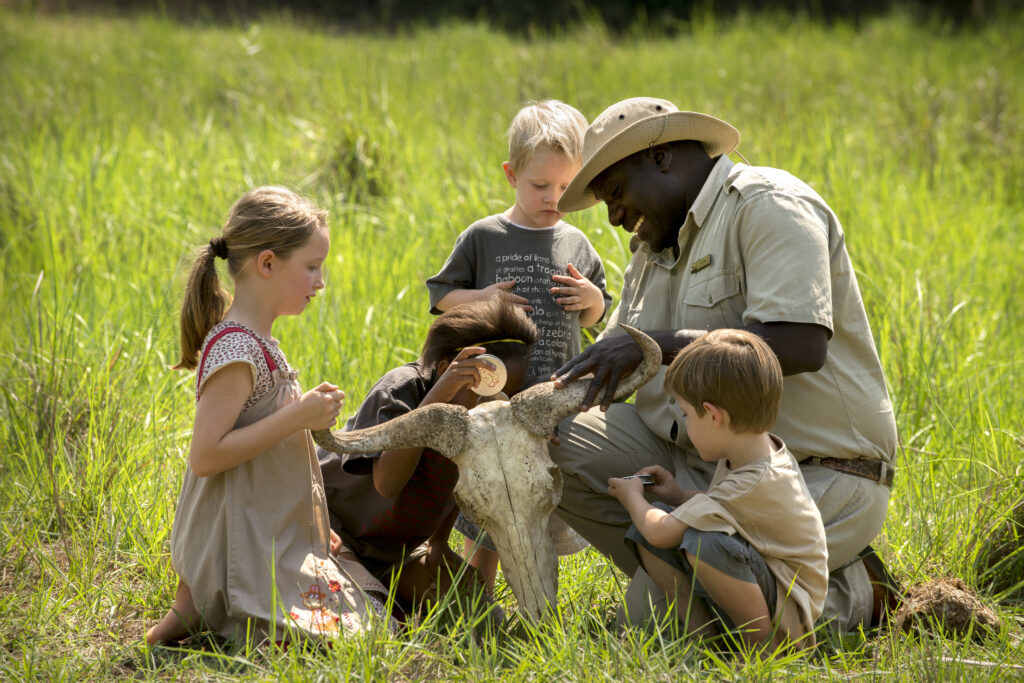 WILDChild Programme
One of the very best places for a family safari is Phinda Mountain Lodge in KwaZulu – Natal, South Africa, perched on a mountaintop with breathtaking views of the green Lebombo foothills. With three family cottages, a Family Suite, and a dedicated WILDChild programme filled with fun, interactive activities, a stay here offer kids (and parents!) the opportunity to leave with treasured memories of the African bush. The whole family can explore once-in-a-lifetime experiences like sleepout under the Stars, Explore Maputaland, Specialist Walking Safaris, Black Rhino Tracking, any conservation experiences, Zulu village Tour, Turtle Nesting Adventures, Maputaland Beach Adventure, Ocean Safari, Scuba Safari and more.
For the lion lovers : andBeyond Grumeti Serengeti River Lodge, Tanzania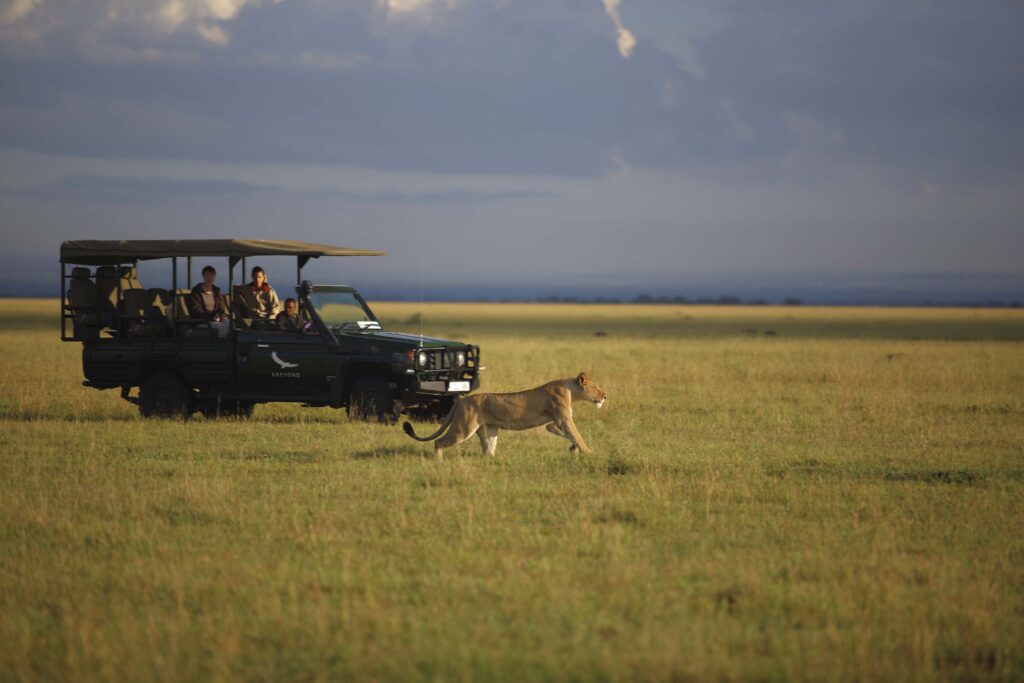 Grumeti Lion Sighting
In the Serengeti National Park, the Grumeti River Lodge is surrounded by a variety of settings, most of which are enormous grasslands. The majestic plains in the western quadrant contrast with the lush splendour of the Grumeti riverine valley. A photographer's paradise, the sunrises and sunsets here are legendary. Wildlife fans can essentially enjoy their own private Serengeti in this area of the park, which is known for its big lion prides consisting of between 20 and up to 60 lions, clans of hyenas, big herds of resident plains game as well as the special black – and – white colobus monkeys.
For treehouse luxury and a respite in nature : andBeyond Lake Manyara Tree Lodge, Tanzania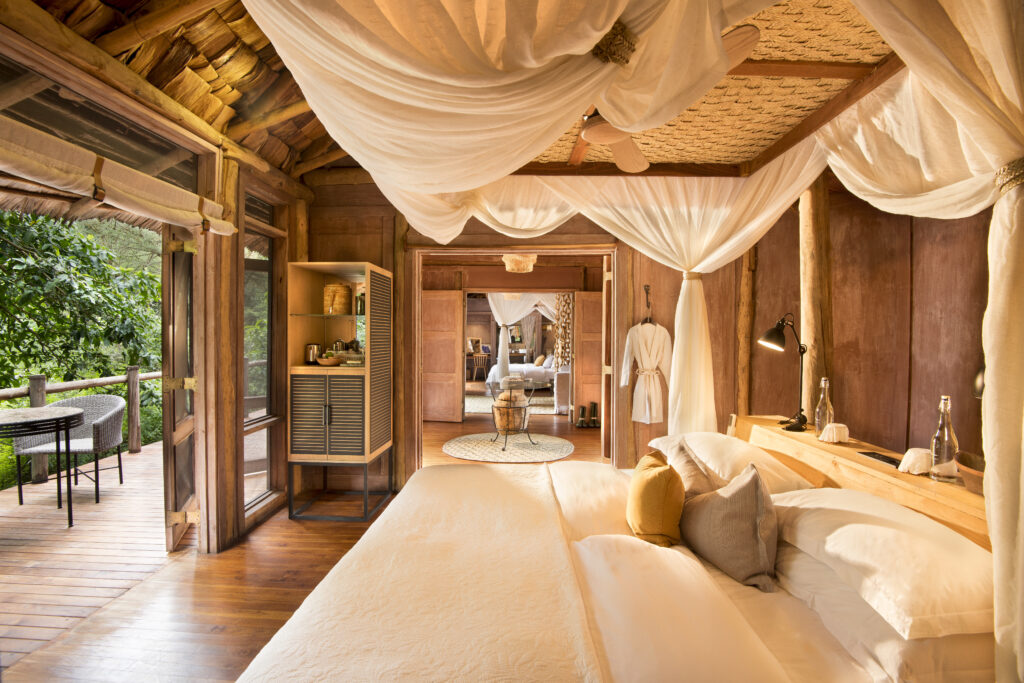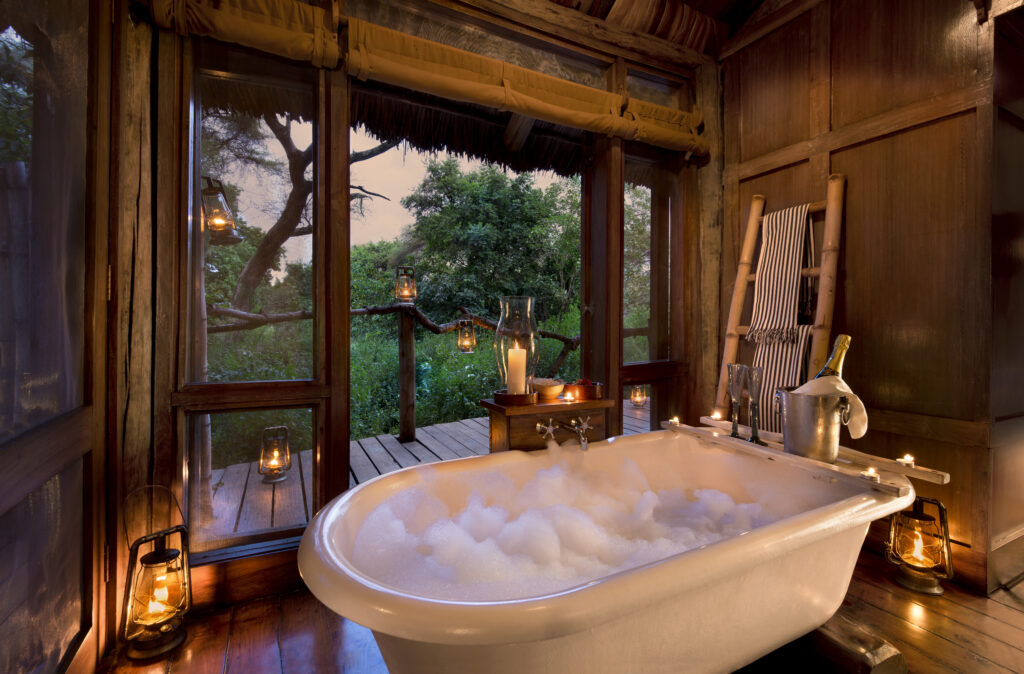 Treehouse Suite Bathroom, Lake Manyara Lodge
At the Lake Manyara Tree Lodge in Tanzania, you can reconnect with the natural world and yourself in a historic mahogany forest. You'll stay in beautiful "treehouse suites", the perfect base for your adventures searching for the famous tree-climbing lions in the Lake Manyara National Park. Each exclusive treehouse offers guests a private eye into the lush surroundings of the lodge – the only one in the park. Because of the lake's amazing translucence, sunrises and sunsets aresimply amazing.  Experience the golden warmth of the sunset in private and observe the flamingos in all their pink glory.
For postponed honeymoons : andBeyond Tengile River Lodge, South Africa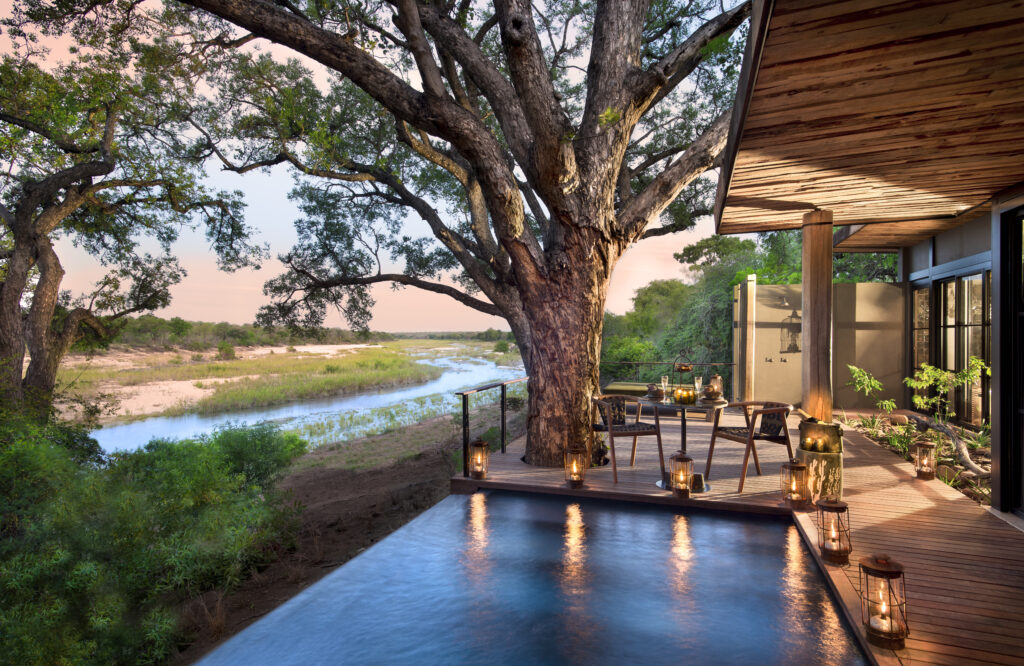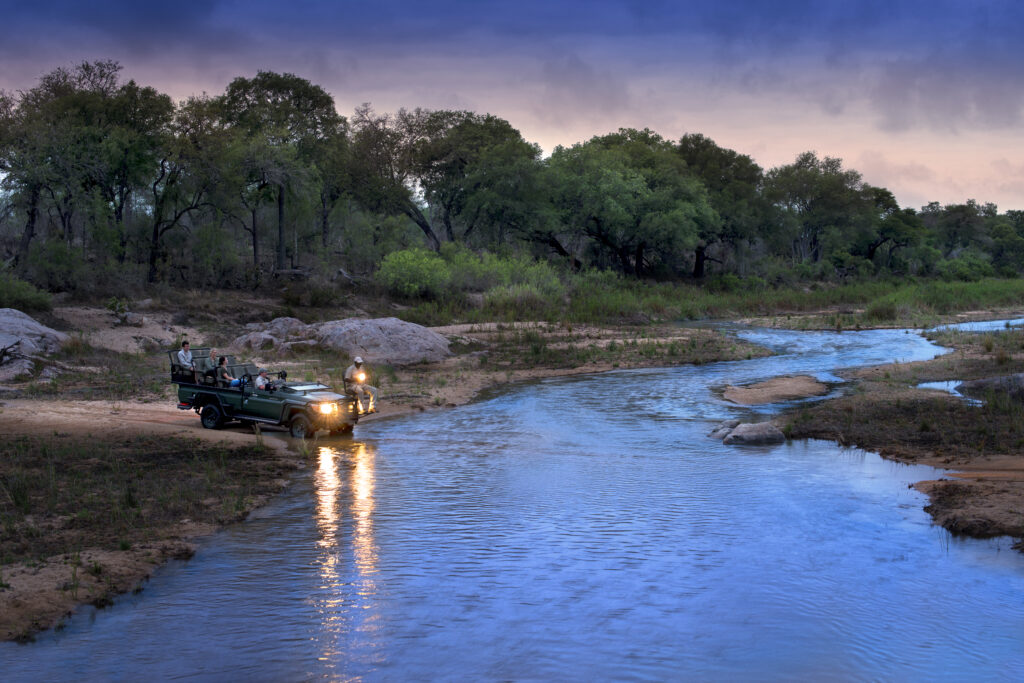 Private Lap Pool, Tengile River Lodge
With many a wedding and honeymoon postponed, it's time to book that romantic getaway. Blending romance with adventure in luxury is the ultimate holiday with your special someone. The magnificent Tengile River Lodge in South Africa features nine enormous, air-conditioned, secluded suites, dotted in the dappled shade of the bushveld, each with panoramic river views. A private lap pool comes complete with a sunken outdoor lounge looking out onto the famed Sand River. The lodge's layout guarantees stunning river views from every aspect. With binoculars, you may observe game roaming over the broad terrain and elephant herds gathering in the riverbed from intimate private decks and outdoor seating. The Sabi Sand Game Reserve benefits from a great diversity of wildlife including the Big Five, as it neighbours and shares a 50 km (31mi) unfenced boundary with the Kruger National Park, renowned for its prolific leopard sightings.
andBeyond offers a safari honeymoon package to commemorate your newlywed bliss that includes a 50% discount on opulent lodging at a number of andBeyond safari lodges; good for 6 months from  the wedding date but to travel before 15 December 2023.
For the adventurous thrill seeker : andBeyond: The Hidden Valley, Nepal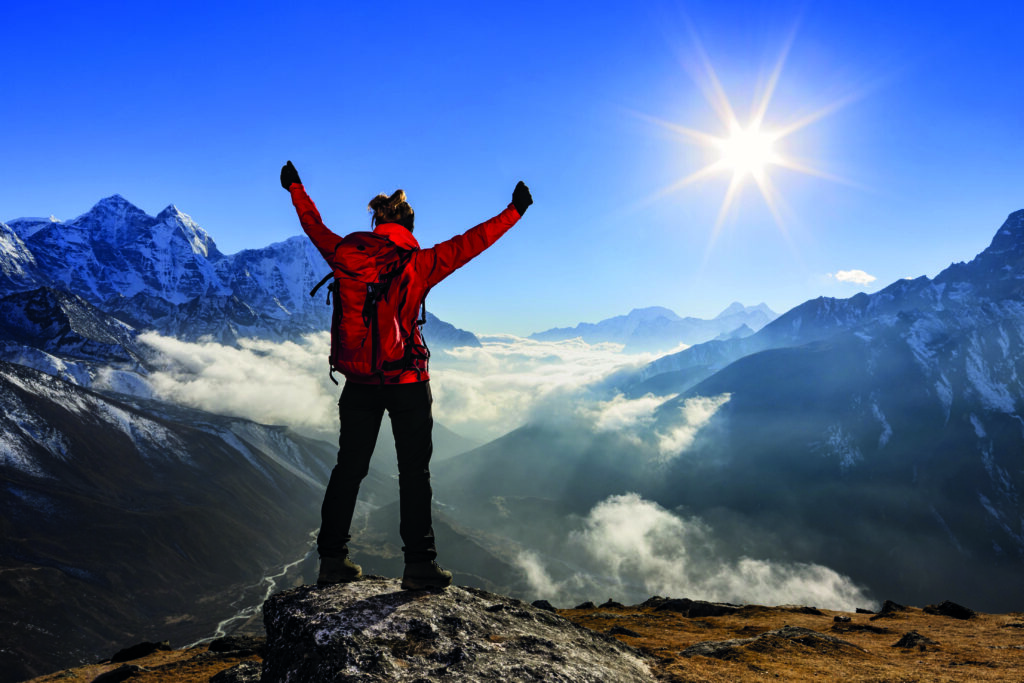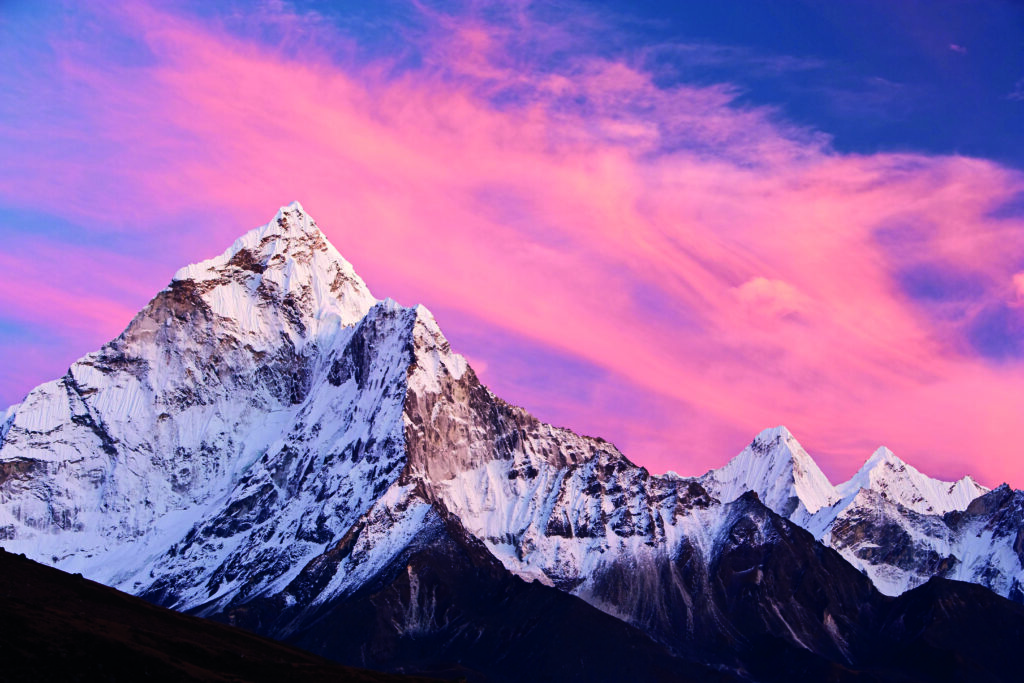 Venture through the unforgettable region of Nepal with an 11 – day journey that starts in Kathmandu and takes you well away from the usual tourist spots into the remote valley of historic Phaplu, beautiful monasteries and the pristine wilderness of the Chitwan National Park. Hike, go mountain biking and fly over Everest in a helicopter. Your naturalist guide will organise your safari outings in Chitwan depending on the sightings reported in the region and the weather conditions, spotting rhinos and crocodiles. Along the way you'll stay in charming guesthouses and private tented camps, meditate with Buddhist monks and visit remote villages.